Breaking: Released Kankara schoolboys arrive in Katsina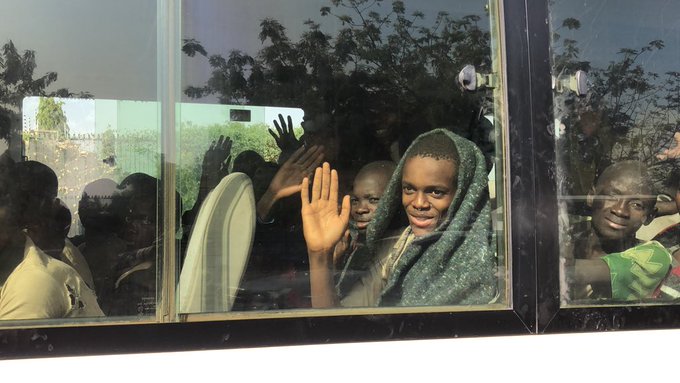 Estimated Reading Time: 2
Hundreds of schoolboys abducted last Friday from Government Science Secondary School, Kankara, and released on Thursday night have arrived Katsina State.
The students were escorted into the state capital by security operatives.
Some of the schoolboys, who were still clothed in their school uniforms, were led to an expansive hall in the Government House where they were received by Governor Aminu Masari.
Masari had on Thursday night confirmed the release of 344 abducted schoolboys, adding that the boys were at Tsafe, Zamfara State, and would be transported to Kankara today.
The Katsina governor also said the schoolboys would receive proper medical attention before they are reunited with their families.
Gunmen on motorcycles had invaded the school premises last Friday and abducted over 300 students after a gun duel with the police.
Meanwhile, a former Minister of Education, Oby Ezekwesili, has renewed her demand for the release of schoolgirls kidnapped in Chibok and Dapchi, this follows the release of the abducted Katsina school boys.
Hundreds of schoolgirls were kidnapped in Chibok and Dapchi in 2014 and 2018 respectively. Though the terrorists later returned more than 100 students to Dapchi after talks with the government, a schoolgirl, Leah Sharibu, was not released for refusing to convert to Islam.
The former minister, who rejoiced over the release of the KankaraBoys, said their kidnap was avoidable.
The former minister, who rejoiced over the release of the KankaraBoys, said their kidnap was avoidable.
She said this in a series of tweets on Friday, calling on the Federal Government and security agencies to secure the release of Chibok and Dapchi girls.
She tweeted, "We rejoice in the freedom of our innocent #KankaraBoys! But, Nigeria is not being governed at all now.
"All the characteristics of a Failing State are evident in this country and must be averted by citizens.
"Nigeria needs a rapid Independent Medical Evaluation of @MBuhari and his Presidency @NGRPresident have reduced Nigeria to a laughing stock in the comity of nations.
"Imagine the depth of incompetence that produces the kind of monumental failure of intelligence and security that again made #KankaraBoys abduction possible at all!
"Where are the remaining 112 #ChibokGirls and the only remaining #DapchiGirls, #LeahSharibu who is a Prisoner of Faith?