Buhari is satisfied with security chiefs; Garba Shehu says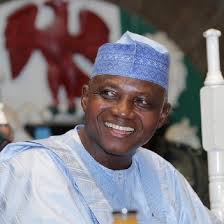 Estimated Reading Time: 1
Presidential Spokesperson, Garba Shehu has defended President Muhammadu Buhari's decision to keep the security chiefs of the country despite the growing scale of insecurity over the years. 
Lawmakers have called on the President to sack the service chiefs over alleged cases of human rights violations and their inability to find a lasting solution to insecurity in different parts of the country. 
In a recent spate of violence , Boko Haram on Saturday carried out a gruesome massacre against farmers in Zabarmari and killed at least 110 people, the United Nations said
This intensified the call for the service chiefs to be replaced. 
However, Garba Shehu while speaking to Arise TV on Monday said that the President still keeps the service chiefs because he is satisfied with their performance. 
"I am not aware that the tenure of service chiefs is subject to any law or regulation that is clearly stated. They serve at the pleasure of the president," he said.
"If the president is satisfied with their performance, he keeps them. And the buck stops on his table with all due respect to the feelings of Nigerians.
"The clamour for the sack if out-of-place considering that the president is not subject to the opinion of the opposition political party which has clamoured for this all the time."
"He decides who he keeps as a service chief and for how long," he added.