The latest is "disgraceful and violent end" – what Buhari has said about bandit attacks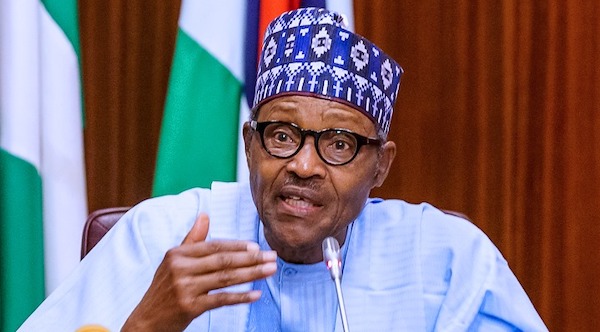 Estimated Reading Time: 4
President Muhammdu Buhari on Saturday June 6, 2020, warned armed bandits reigning terror in states in northern Nigeria, the north-west in particular, to surrender their arms or face"disgraceful and violent ends".
In a statement released by the Senior Special Assistant to the President on Media and Publicity, Mallam Garba Shehu, Buhari's warning conveyed to the bandits (who attacked his state in February killing at least 30 people in Damkal and Tsanwa villages in Batsari Local Government Area of Katsina State), was a call to surrender and the threat of "disgraceful and violent ends".
In a follow-up message on Buhari's personal Twitter page, he described the attacks as "sad and regrettable" warning that the bandits "will not be spared".
Today's meeting with Masari was quite similar to the one Buhari held with the Sokoto State governor, Aminu Tabuwal about a week ago after which the governor told the press that he had gone to give the President a situation report on the recent attacks on Sokoto Eastern Senatorial District and the very worrying one in Sabon Birni LGA, and how badly they (security agencies battling the bandits) needed support.
"I requested to see the president yesterday (Thursday, May 28, 2020) and he granted me audience today.
"I have seen him, briefed him on the security situation in Sokoto state in particular; the security situation in Sokoto Eastern Senatorial District and of very special concern, Sabon Birni Local Government Area of the state.
"Apart from the previous attacks, only two days ago through banditry attacks, we lost about 74 people in a very heinous and dastardly act of aggression from the bandits.
"I have briefed Mr President on the general situation and the need for support that we require.
"When I said `we' in this case I meant the security personnel that are there in Sokoto working day and night in synergy with each other to ensure that they maintain peace and order in the state." Tambuwal said on May 29, 2020.
In a statement similar to the one released by Shehu today, Buhari had said of the Sokoto attacks that "a major military operation code-named "Operation Accord" was launched by the military, targeting the bandits that had been tormenting North-West and North Central states.
"This operation will be full time and sustained military offensive that is intended to deny the bandits any breathing space to reorganize and regroup."
President Buhari went on to describe the bandits as "remorseless psychopathic mass killers who have no regard for the sanctity of life."
On February 15, 2020, after bandits had killed 30 people in Damkal and Tsanwa villages, the Commander-in-Chief of the Armed Forces of the Federal Republic of Nigeria said "no one in the country has a right to take laws into his hands by the way of self-help or revenge", adding that "killing people in the name of revenge is not acceptable".
Buhari went on to address an interesting part of the reports he appears to been getting on why the attacks are raging on. This suggested that local communities are withholding captured bandits and meting out capital punishment on them, leading to further attacks.
"Local communities that catch bandits should hand over the suspects to law enforcement authorities instead of meting out capital punishment, leading to a cycle of revenge and counter revenge.
"The authorities must be allowed to investigate and deal with any breach that occurs. There is no place for violence in a decent society," he said at the time.
Masari's meeting may not be completely unconnected to the protests which followed the attack on Yangayya community in Jibia LGA, on May 17, 2020, where bandits carted away residents' belongings, raped and physically assaulted many women, some of which ended up in the hospital.
Sources at the protest had told Premiumtimes that "the residents trooped to the main road in protest, blocking motorists, targeting and molesting government officials who use luxury cars. The residents also used derogatory language against Governor Aminu Masari and President Muhammadu Buhari".
According to news reports, in Zamfara, Kaduna, Sokoto and Katsina states, over 462 people have been killed by bandits between January 1 and June 6, 2020.
In January, 16 people were killed in Zamfara, 5 in February, 20 in March, 4 soldiers were killed in April, and 33 were killed between May 1 and June 6, 2020.
73 were killed in Sokoto in May, 22 in April, 1 in March with 6 kidnapped.
In Katsina, 10 were killed in January, 34 in February, 49 in April, and 13 in May.
In Kaduna 43 were killed in January, 20 in February, 52 in March, 23 in April, and at least 44 between May 1, 2020 and June 6, 2020.
On May 19, 2020, Senator  Ibrahim Gobir representing Sokoto East, said residents fleeing the violence in Sokoto were being helped by foreign forces, not the Nigerian Army.
"The situation in Sokoto East as far as armed banditry is concerned, is pathetic and tragic because it is only Nigerien Army that had been coming to their rescue while the Nigerian Army looks the other way round.
"Infact, based on very reliable and verifiable information from the area, many at times, that the people of the affected areas called on Nigerian Army for help and protection against the bandits, no response.
"But graciously, the Nigerien Army has been assisting in wading off the bandits, the very reason while not less than 5,000 people in the affected areas have migrated to Niger Republic for safety," he said.