Updated: Nigeria will work to ensure Adesina's re-election – Buhari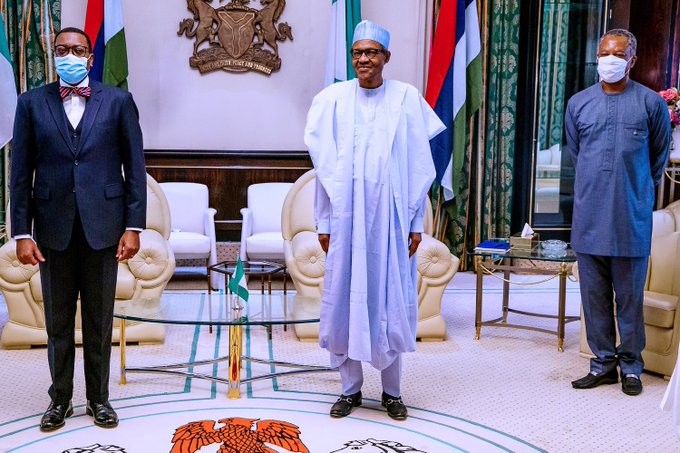 Estimated Reading Time: 2
President of the African Development Bank, Akinwumi Adesina, is currently at the presidential villa in Abuja to meet with President Muhammadu Buhari.
Adesina arrived at the villa on Tuesday, June 2, 2020.
In a tweet via his personal handle, Buhari said Nigeria will support Adesina's bid for a second term at the AfDB and will work all leaders to ensure he is reelected.
"Nigeria stands solidly behind Akinwumi Adesina in his re-election bid as President of the African Development Bank (AfDB).
"We will work with all leaders, and stakeholders in AfDB, to ensure that he is re-elected, on the strength of his achievements during this first term" the Nigerian president said after the meeting.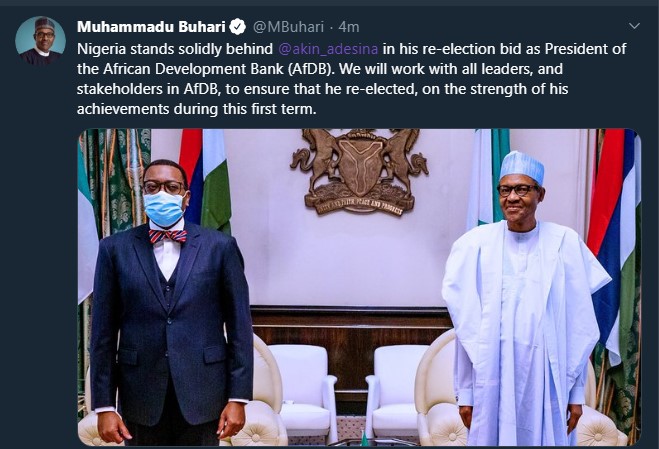 The former minister of agriculture in Nigeria was appointed the President of the AfDB in May 2015.
He is currently in the running for a second five-year term at the bank.
Adesina's visit to Buhari may not be unconnected to his second term bid as well as recent criticisms by the United States of America and the President of the World Bank David Malpass following a memo filed by a group of whistleblowers from the bank.
In April 2020, the group of anonymous employees at the bank submitted a memo to the Office of Integrity and Anti-Corruption (PIAC) and to the presidents of the Ethics Committee and Audit and Finance Committee of the bank, alleging breaches of the Code of Conduct, against the AfDB president.
On May 5, the Ethics Committee of the Board of Directors declared Adesina, innocent of corruption allegations raised by the whistleblowers.
The committee, headed by Takuji Yano, the institution's Japan Executive Director, described the allegations against Adesina as "spurious and unfounded".
Reacting to the Ethics Committee findings on May 22, the United States, which is a member of the bank, expressed "deep reservations about the integrity of the Committee's process" and called for an external "in-depth investigation of the allegations."
According to the Bank's statutes, the Board of Governors is the only body with "the final authority to decide whether or not to act on any complaint or allegation of a breach by the President of the Bank of the provisions of the Code of Conduct".
On 26 May, the Board of Governors Bureau, the body overseeing the AfDB's Ethics Committee, bowed to the pressure from the US and approved the launch of an independent investigation.
Analysts expect Nigeria and other African countries to support Adesina for a second term. However, Adesina would need votes from non-African members of the board as well, to get elected.