Return to negotiation or…, Ngige warns ASUU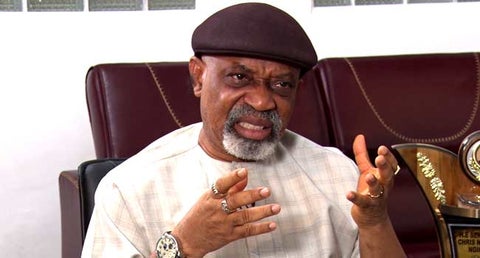 Minister of Labour and Employment, Chris Ngige has warned striking lecturers in Nigerian universities to return to negotiations with the government or face consequences.
Ngige in a statement released by his media aide in Enugu on Sunday, said the Federal Government could activate relevant labour laws to deal with the situation if the Academic Staff Union of Universities (ASUU) refused to return to negotiations with the government.
"Any other reason given by ASUU is an alibi. I invited ASUU for a zoom meeting in compliance with COVID-19 guidelines, but they insisted on meeting me face to face.
"We have labour laws and hierarchy of arbitration. There is the NAP and NIC. If I am tired, I can refer it there.
"So the better thing is for them to come and negotiate on firsthand basis where we are not bringing an external arbitrator," he said.
University lecturers across Nigeria embarked on an indefinite strike over the Federal Government's inability to meet up with various agreements entered with the union.
ASUU initially declared a two-week warning strike on March 9, 2020, due to skeletal and actual non-implementation of Memorandum of Understanding (MoU) and Memoranda of Action (MoA) .
The agreements range from the non-funding of public universities and non-payment of outstanding balance of arrears of Earned Academic allowance.
ASUU on March 25th announced that the strike had become indefinite.
Few days after ASUU's announcement, the federal government declared the first phase of the lockdown across two states and the Federal Capital Territory as part of the measures to combat the COVID-19 pandemic.
In the three months since university students have been at home, public sentiment for both parties has fluctuated.
There were initial comments of support for both parties but as the pandemic wears on, talk of the ASUU strike has dropped from public discourse, as schools remain shut and most public offices remain closed to non-executive staff.
With Nigeria nearing the 10,000 mark of identified COVID-19 cases, there are indications that reopening public schools at this time would be detrimental to controlling the spread of the virus.
It is safe to say at this time that university students are not paying much attention to the strike but that could all change if the FG reopens schools and the strike is still on.