Group wants Lagos Assembly Speaker Prosecuted for Corruption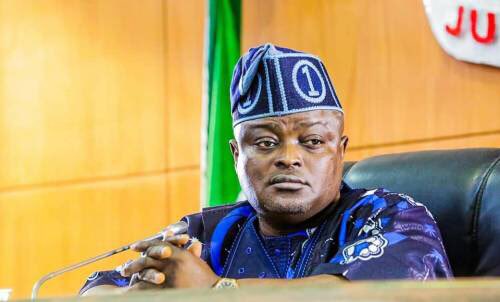 Estimated Reading Time: 2
                                                                                20th May, 2020
The Chairman,
Economic and Financial Crimes Commission
Plot301/302, Institution and Research
Cadastral District, Jabi
Abuja, Nigeria

Dear Sir.

REQUEST FOR PROSECUTION OF LAGOS STATE HOUSE OF ASSEMBLY SPEAKER, MR. MUDASHIRU OBASA OVER CORRUPTION ALLEGATIONS

The above matter refers.

We are a pro democracy group committed to accountability, rule of law, human rights and protection of vulnerable groups in Nigeria.

We write inline with your mandate to investigate, prosecute and penalise economic and financial crimes calling upon you to begin an investigation of the Speaker of Lagos state House Of Assembly, Hon. Mudashiru Obasa.

In the past weeks, an Online investigative newspaper, Sahara Reporters has in a series of publications, reported that Hon. Mudashiru Obasa illegally collected N45,750,00 for a Christmas party for children of Lawmakers that never held.

Subsequently, the Speaker of Lagos State House of Assembly, Mudashiru Obasa also approved the sum of N258m for the printing of invitation cards for the inauguration of lawmakers two months after the event had been held

The document explicitly stated that the fund was processed on the orders of Obasa for the inauguration of the Ninth Assembly with 34 returning members and six new members, which was held on June 7, 2019.

The document, which was used for the approval and release of the funds, was fraudulently processed two month after the event had taken place. The document was titled "Celebrations and Ceremonies" and was dated August 7, 2019.
It reads, "Being payment approved for the printing of invitation cards during the inauguration of the 9th Assembly as per Hon. Speaker's approval vide LSHA/LM/C/276."

"The online news publication also revealed how the Speaker approved N17m monthly to maintain his personal residence and guest house, and N53m from the state coffers to travel with his mistress to the United States of America."

The Newspaper also published how 19 lawmakers led by Obasa and Sanni went for a women leadership programme and received N80m as estacode after returning from the programme. The document dated December 30, 2019, stated that the payment was released on the orders of the Lagos Assembly Speaker.

"Payment approved as Estacode to the Rt. Hon. Speaker, Deputy Speaker, 14 officers and 17 hon. members to attend the women leadership seminar scheduled to hold at the Movenpick Hotel and Suite, Dubai, as per Rt. Hon. Speaker's vide LSHA/FAD/0/110/IV," the document read."

Finally, we call on the commission to as a matter of urgency, swing into action and launch an investigation into the alleged abuse of office, misappropriation and diversion of public funds by Hon. Mudashiru Obasa.
Most obliged.
Comrade Deji Adeyanju
Convener
Disclaimer
It is the policy of NewsWireNGR not to endorse or oppose any opinion expressed by a User or Content provided by a User, Contributor, or other independent party. Opinion pieces and contributions are the opinions of the writers only and do not represent the opinions of NewsWireNGR
To continue telling under-reported stories, we need your support for the work we do, donate to https://www.paystack.com/paynewswirengr
Also, kindly donate to the work we do using this interim PAYPAL ID https://www.paypal.me/NewsWireNGR