Olisa Chukwuma: The Only Way Out Of #Covid19, Is A Sincere & United National Will To Fight The Virus.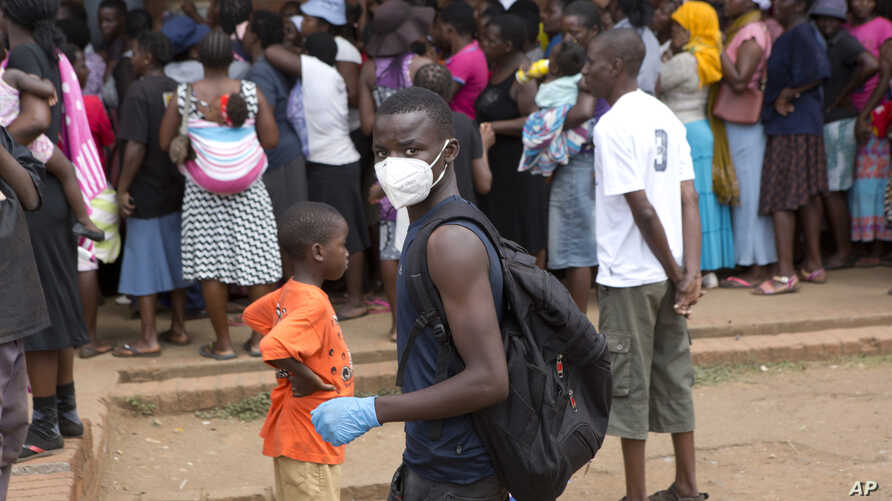 Estimated Reading Time: 4
A quick dash to the market or the closest shopping mall as witnessed a few days ago and the obvious was quite clear; buying and more endless buying.
The 'lockdown' was imminent. And the speech from President Muhammadu Buhari on Sunday night, however long awaited, was simply the green light for everyone to join the now global 'stay home' phenomenon. Thanks and no thanks to Covid-19 – the one and only topic of current worldwide discourse.
Here in Nigeria as indeed around the world, the situation with the corona virus pandemic drove hundreds of thousands from a state of panic-induced frenzied purchasing, to what one might take the liberty to call apocalyptic shopping. No doubt, with reports and intense media coverage alongside images and videos circulating on social media, it's fair to put that it's all been so far nothing short of a bombardment.
Covid-19 now has all our attention and the numbers are staggering, with thousands getting hospitalized, some in critical condition and a daily rising death toll in countries like Italy, Spain, the UK and the US – which have so far been the worst hit apart from China, where the outbreak all started.
But one thing is for sure, this is no longer a 'Chinese sickness' and the sooner the authorities and we the citizens of Nigeria, particularly in major cities like Lagos, begin to internalize not just with displayed hysterics, as already witnessed with the rampant mask wearing, gloved hands and a now glowing sanitizer apatite – but with informed caution, awareness and more importantly, kindness to each other with regard to the risks and contagiousness of the virus – the sooner we can avoid a full-blown crisis like that already experienced elsewhere.
And it is no longer news with regards to the impact the Covid-19 virus has had on the health systems of countries with far more advanced medical infrastructure and preparedness for major disease outbreak and control. So at this point, the usually typical and well-practiced comparisons to that of Nigeria's medical sector are much futile. Because the only way out of this, for all of us, will have to require at the very least, some level of a perhaps non-before-lived experience: a sincere and united national will to fight the virus.
Indeed it may well prove to be the very worthwhile fight, even more consequential than the now age long 'war against corruption'. And this time, it appears we are all going to be on the front line – whether by staying home and practicing the novel social distancing techniques, or self-isolating whilst adhering to informed advice from medical experts, who themselves are faced with the harrowing task of dealing with a health crisis which they have never before encountered – at least not in a lifetime and of this quite alarming magnitude. This is history in the making right before our very eyes. 
Indeed our healthcare workers are and will be the "true heroes" as put by president Buhari during his speech. 
Ironically, on the face of it, the Covid-19 virus give an impression to be some sort of 'weak virus' given that with a simple thorough washing of the hands with soap and water for about 20 seconds, as recommended by experts, does well to kill it.
But it has also proven to be highly infectious and communicable, especially with the dangers it can pose for an infected person; especially in extreme cases for people both young and old with already existing health problems and in a position of high risk.
And while for some an infection might appear asymptomatic, or may manifest after few days – giving rise to the risk of unknowingly infecting more people – others could prove quite evident early on with the symptoms.
Still, Covid-19 is not a death sentence, not even by definition as we can reflect on some good signs from many who were diagnosed positive but isolated or quarantined with or without medical supervision. And those who suffered – needing intensive treatment with close monitoring, but have now gone on to full recovery, retested negative and discharged. Some of which are already truly remarkable stories, but let's not take any chances.
So we'll stay indoors to sit in for the lockdown and wait out the 14 days already on count, and let the heroes do the rest. But we'll also hope that the situation doesn't require an extension beyond that already stated by the government.
And should that be the case – goodness no! We'll do well to see it out together as one people with kindness and empathy, especially for the most vulnerable regardless of social status, age, gender, tribe, ethnicity, religion or any other divide.
But while at it, the 2011 American thriller film 'Contagion' might to some degree, be a good watch in getting a 'sense' of the situation without stoking fear or more panic. And maybe, too, in conjuring some glimmer of hope, if not Hollywood style, for a discovery of an eventual vaccine.