AFP is reporting that Nigerians now forced to drink "burukutu," as economy worsens under Buhari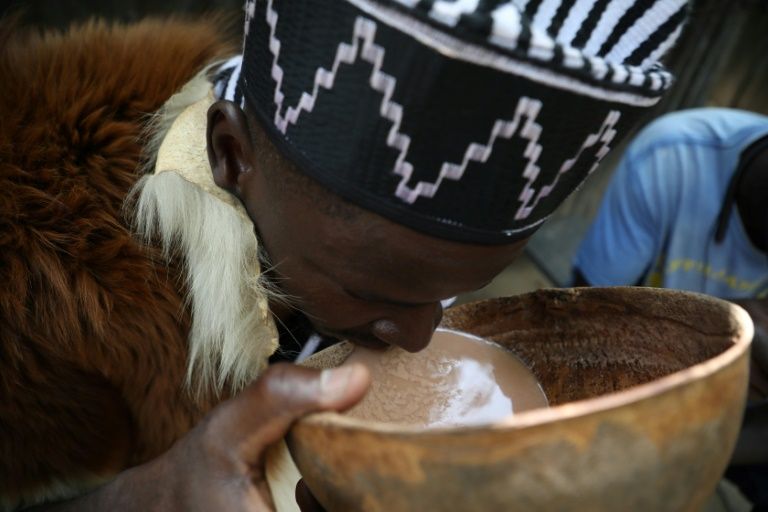 Estimated Reading Time: <1
Agency France Presse (AFP) is reporting that, Nigerians now turn to traditional brewereis as economy staggers under President Muhammadu Buhari.
According to the report, "Government worker Iorliam Shija sits in one of the ramshackle bars along the banks of the Benue river in central Nigeria sipping from a gourd filled with frothy burukutu."
The story reads in parts, "The vinegary alcoholic beverage has been made here for generations from the fermented grains of sorghum and millet and consumed as a traditional alternative to beer. – Now, as Nigeria's economy struggles to grow, the local brew is enjoying a boom from clients looking for a cheaper option."
NewsWireNGR recalls that it has been a downhill as International Breweries have been recording worst performing stock since 2019. Breweries closed 2018 at N27.97 a 46.4% negative return and one of the worst performers that year.
As if things couldn't get any worse, shareholders faced another tumultuous 2019 with the stock closing 2019 at N9.4 and a negative return of 69%.
With that, Nigeria's second-largest brewer by revenue, International Breweries ended 2019 with the unenviable record as the worst-performing stock of the year.
Shija told AFP reporter, "If you have beer or burukutu, I will go with burukutu, – It is natural and it is what our people are used to drinking."
Even though it is still early, the makeshift joints are already filled with drinkers young and old, male and female.
According to the AFP, "Women ladle the brownish liquid — which typically varies in strength from around four to 10 percent alcohol — out of large clay pots into dried calabashes for customers to drink alone or in a group."
Typically burukutu — which has its roots with the Jukun people of central and north Nigeria — is consumed by all stratas of society and serves as an important focal point for social gatherings.
But those partaking say that as Nigeria's economy limps along more people in this rural area are turning to it instead of the more expensive mass-produced beers.
– Economic hangover –
Emmanuel Anthony has come to join friends even though he admits he has no money in his pockets, the report says.
He said, "The reason why I am taking it is that I want to cut cost, – The economy is bad for now. I cannot go outside and start living above my means."
Nigeria's economy is still struggling to shake off its hangover after emerging from its deepest recession in decades in 2017. The government is predicting that growth will reach 2.93 percent in 2020, but that is still well below earlier levels and poverty rates are increasing as population numbers surge.
"With just 200 naira ($0.55, 0.5 euros), two or three people will take the drink and be satisfied," Anthony explained to AFP Journalist.