Special Report – Erased, Life as an Intersex person in Nigeria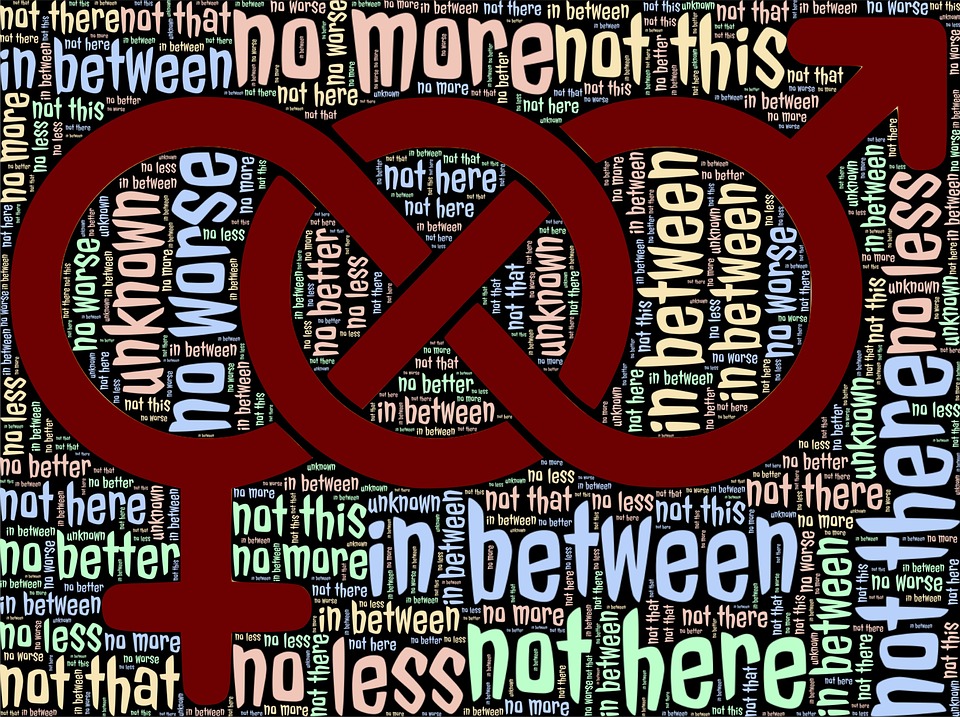 Estimated Reading Time: <1
A mixture of baby tears and screams of joy is how you know that another woman has been delivered of a child in this hospital in the heart of Isoko, Delta State, Nigeria; a state popularly known for being an oil-rich region. Over three decades ago, and in this same hospital, a child was born to the Abades.
They named the newly born baby Iyabo Abade because, it appeared, from all indications that the new baby was a girl.
As a young girl in school, Abade (now James Johnson) quickly developed a keen interest in playing football and as a talented player, also became an asset in the team.
Things went well for Johnson until he was past the age of puberty when the expected bodily changes were supposed to take place and unlike other girls in the football team, Johnson neither experienced the growth of breasts or menstruation. This was the beginning of a life of closets and shame for something he never fully understood nor knew how to manage. It was at this point Johnson knew that something was wrong. "As you grow up and see that the appearance and structure of your female friends are different from yours, then you know something is wrong," Johnson says. "I didn't really understand".
Intersex people are born with sex characteristics (including, but not limited to, genitals, gonads and chromosome patterns) that do not fit typical binary notions of male or female bodies. Intersex is used as a comprehensive term to describe a wide range of natural bodily variations hence intersex characteristics vary from one intersex person to the other either in the sex chromosomes, hormones, type of gonads, internal reproductive anatomy or the genitalia. Experts say that about 0.05% – 1.7% of the world population are born intersex but, the current estimates on intersex people in Nigeria are unknown.
Intersex persons/issues are still widely ignored in Nigeria. The lack of knowledge of (majority of) Nigerians, cultural, religious, social conservatism, and religious intolerance to any form of otherness has enforced the prejudicial and unfair treatment of intersex persons. This has led to stigma, discrimination for, in this case, intersex persons. "It was a big challenge," Johnson tells NewsWireNGR about growing up and discovering his being intersex. "And I don't wish that anyone goes through that process".
Midway into Johnson's career (still identifying as female), Johnson had a shot at fame and influence when he was selected to play for the Nigerian female football team, Super Falcons. During this period, his his internal and physical conflict still remained. It didn't take long within the team before he began to gather attention from other teammates and opponents due to his "difference" from other young women on the team. After discussing with the doctor of the National Football Team, Johnson did some tests and discovered that although he was assigned and raised female, he was intersex with a varying percentage of traditionally male and female hormones and tissues. The prescription quickly spread to other members of the team as well as the head of the National Football Federation. This led to his excommunication from the national team, a move that, as he was told, was to help him find a solution to his 'problem'. This discrimination led him to develop suicidal tendencies. "When you are neglected and discriminated against, all you want to do is take your own life," Johnson says.
But James Johnson's experience with discrimination is not an isolated event. It's the experience of many intersex persons in Nigeria. "If you are intersex, like me, in Nigeria, many people will look at you as if you are not human," James Johnson laments. "You will both be rejected, mocked and discriminated against."
In 2008, former falconets football player, Bessy Ekaete Boniface was decamped after being selected to play at Chile 2008 FIFA U-20 Women's World Cup for being intersex. In 2018, a video displaying jungle justice against an intersex teenager was released anonymously on the internet. The subject of the attack – which allegedly took place in Benin City, Nigeria – was stripped, beaten and publicly humiliated. Many others are labelled witches, ostracized from their communities and killed – sometimes by their own parents. And since these deaths mostly go unrecorded, or concealed, there's no accurate way to measure the mortality rate of intersex persons in Nigeria. But advocates say the numbers are mind-numbing.
"Religion has also played it's [dangerous] path in ensuring that even those who have the information approach it from a diabolical angle." Mx. Emmanuella David-ette, President of Trans and Intersex Persons for Human Rights In Nigeria (THRIN) explains to NewsWireNGR. This plays out in the amount (and intensity) of exorcisms many intersex people go through intended to change them from being intersex.
It was in 2013 during one of these occurrences of "religiously motivated violence" against and murder of intersex children in Akwa Ibom, Cross River state that Timothy Adewale had his first experience working with intersex persons. Mr. Adewale is the Executive Director of the Centre for Health, Equity and Justice (CEHEJ), a non-governmental, non-profit, advocacy, research, and capacity-building organization focused on the enforcement of the right to the best attainable standard of health for all citizens.
According to Barr. Jake Okechuwkwu Effoduh, a legal practitioner and the founder of Lawyer's League for Legal Minorities, in an interview with NewsWireNGR, he said solving the problem of discrimination against intersex persons and protecting them will require a wholesome approach of advocacy and public enlightenment.
"Sometimes, this discrimination is not just legalistic, it's also cultural, it's also social. So beyond ensuring justice for these people within the ambit of the law, we [Lawyer's League for Legal Minorities] are also concerned about social education and sensitizing people about the rights of all and sundry," Effoduh says.
In order to fit into binaries of male or female, intersex people are subjected to mutilations, surgeries and other forms of medical treatments mostly at birth. Although Johnson has had to undergo corrective surgeries as an adult, not all intersex persons need to undergo corrective surgeries as they can live perfectly normal lives as intersex persons. The decision (and responsibility) to undergo corrective surgery should be on the intersex person, in adulthood. The doctors who are the first contact and the most informed medical practitioners who should guide the parents are also misinformed on the medical implication of being intersex or the legal implication of performing a surgery on an intersex child. "It is unethical, criminal and a violation of the bodily right of a child for a doctor to decide on their own to carry out surgery without a consent approval," Effoduh asserts.
Mx. David-Ette also agrees that until a child has reached the legal age of consent – 18 years in Nigeria – it is mandatory that no surgery or mutilation be carried out on the child.
Although there is no law similar to the Same-Sex Marriage Prohibition act for Lesbian, Gay and Bisexual Nigerians that criminalizes intersex people, there are no specific laws or provisions that protect them either. Intersex persons in Nigeria cannot identify as intersex, are operated on without their consent at birth, and are victims of public ridicule, social stigma, slurs and humiliation. While legal advocates work to extend the boundaries of the law are for the recognition of intersex people, the constitution still provides protection for all Nigerians. "Intersex Nigerians are Nigerians and are protected by every law that protects every Nigerian and they are entitled to the recognition, respect and observance of their fundamental human rights," Effoduh affirms.
Chapter IV of the 1999 Constitution of The Federal Republic of Nigeria provides, amongst other fundamental rights, the Right to life, Right to Private and Family Life, and Right to Freedom from Discrimination for ALL Nigerians. Activists believe that the provision in the constitution which states that, "No citizen of Nigeria shall be subjected to any disability or deprivation merely by reason of the circumstances of his birth" stretches to intersex Nigerians.
That has not been the case for Johnson`. Now 35 years and based in Abuja, the Federal Capital Territory of Nigeria, Johnson has not been able to secure a job nor proceed in his football career in the men's team as he would love to (due to multiple levels of discrimination) since he embarked on the first stage of his corrective surgery in 2004. He hopes that the Nigerian society will be more empathetic towards intersex persons and that the Nigerian government be supportive of and fund more spaces for intersex people. Making space for intersex persons both legally, socially, and medically remains a challenge in Nigeria but advocates are hopeful. "Culture changes and with advocacy and enlightenment, we can always change the minds of people" Timothy affirms. "As advocacy also increases in other countries, it will also get here".
Mr. Adewale is right. Advocacy on intersex persons/issues although slow, is gaining ground in African countries. In 2004, the Parliament of South Africa enacted the Sex Description Act 2003 that allows people who have gone through "sex re-assignment surgery, people whose sexual characteristics have evolved naturally and intersex people" to apply to change their sex recorded in the population registry. The National Bureau of Statistics in Kenya also made recent progress on intersex issues by finally counting intersex persons in her August 2019 population census and allowing them to identify as such on their Kenyan passports becoming the first African country to do so. The August 2019 census data released in November revealed that 1,524 people, about 0.003 percentage of the population were intersex but, LGBT+ rights activists claimed the data might have been inaccurate; a result of "widespread stigma and lack of awareness".
About his future plans, Johnson hopes to gather enough money so he can embark on the final lap of his sex corrective surgery, get a job and marry. "I can't allow anything to weigh me down anymore. I am moving on with my life," says to NewsWireNGR.