Fashola begs Nigerians to brace up for the challenges associated with current realities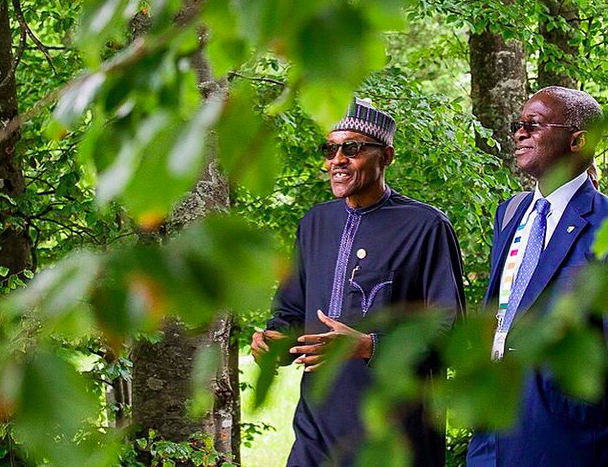 Estimated Reading Time: <1
The Minister of Works and Housing Mr. Babatunde Fashola has urged Nigerians to brace up for the challenges associated with current realities in the country, saying President Muhammadu Buhari has set Nigeria on a most defining, aspirational and audacious journey by kick-starting a process that would lift 100 million people out of poverty in the country in ten years.
The minister who spoke at the investiture of the President, Nigerian Institute of Building (NIOB), Bldr. Kunle Awobodu as the 20th President of the institute noted that leadership remains a huge task that demands huge commitments and deserves huge sacrifices.
Fashola said, ''I wish it to be understood clearly that President Buhari has set Nigeria on a most defining, aspirational and audacious journey of a generation by asking us to help him lift a 100 million people out of poverty in 10 years, a period that will run well beyond his tenure.''
He pointed out that all Nigerians have a role to play by conscientiously building structures of prosperity that will fill up the voids of inequality.
Fashola explained that his ministry placed special attention on the capacity of the building efforts to create seasonal jobs, especially with respects to artisanal jobs.
He said," It was found that each unit of house (excluding estate infrastructure works of roads and drains as well as borehole and reticulation systems) produces between 40 to 60 jobs when measured from start to finish. By simple computation therefore, the already completed 2584 housing units alone has provided an amazing 129,200 jobs.
''The capacity of the construction sector to create jobs is equally very visible in roads and highway development. Hordes of artisans, technicians and semi-skilled workers are invariably absorbed into different aspects of civil works targeted at construction, maintenance and rehabilitation of roads.
''We have started the process but our ultimate target in the Federal Ministry of Works and Housing is to continuously oil this process and subsequently coordinate efforts to create 100 million jobs from investments in different aspects of the building industry in Nigeria. We believe that one of the veritable ways to sustainable prosperity is to create jobs.
''But it is very glaring that we cannot do it alone in the Ministry. While we continuously strive to create the catalytic effect, the heavy end of the fulcrum of this venture lies elsewhere.''
He said the professionals have an onerous responsibility to blaze new trails in skills development and in the promotion of innovative building techniques anchored upon indigenous building materials.
''Your current regulatory instruments must be fine-tuned to arrest quackery, punish professional recklessness and reward excellence. A professional builder has the duty to identify his exclusive role in the built industry and respect the roles of others. More importantly, you have a bigger task of recognizing common roles and express commitment to them.
''In Nigeria, historical experiences have placed different burdens on different professions to carry. I urge you as professional builders to ascertain and upturn any unpalatable impressions carried by the Nigerian populace against your genre. You may need to sometimes stand in the gap for the entire built environment,'' he said.
In his address, the new president of the institute Bldr. Kunle Awobodu emphasised that the institute's pledge to Nigerians is to develop competent builders, saying it would be counterproductive for the growth of the construction industry if competent builders are not engaged.
He lamented that, ''Quacks are occupying the space meant for competent builders. It is only in a nation that lacks a veritable building code and effective mechanism for the implementation of building regulations that such an aberration could exist.
''The major problem confronting the nation's built environment is the attitude of not understanding and appreciating the importance of appropriate building production management. Any society that allows the construction of its buildings to become the 'all comers' affairs' is bound to reap a bountiful project failure in its various manifestations.''