Police Confirms total number of Persons Killed in Kogi during the Governorship Election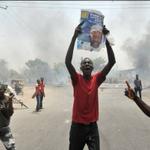 Estimated Reading Time: <1
The police in Lokoja on Sunday confirmed three persons dead during the governorship election held in Kogi on Saturday.
This is coming as the Independent National Electoral Commission has announced the poll results from eight more local government areas.
The Commissioner of Police in Kogi, Mr Akeem Busari, who confirmed the deaths to newsmen, said the command was still compiling its report on the poll to ascertain the actual number of casualties.
Busari also said 10 persons were arrested across the state during the election.
He said it was gathered that three persons died in Lokoja when armed thugs invaded St. Luke Primary School, Adanakolo, during the election.
Meanwhile, the candidate of the Peoples Democratic Party in the Kogi-West senatorial district rerun, Senator Dino Melaye, has rejected the results by the Independent National Electoral Commission for the election held on Saturday.
Melaye, at a press conference in Abuja on Sunday, accused his All Progressives Congress opponent, Senator Smart Adeyemi, and Governor Yahaya Bello of using violence, intimidation and inducement to frustrate the electorate in areas where he was popular.
"Three people were shot and two died; four people were killed in Lokoja; seven were killed in the eastern part of the state; this is the record we have so far, apart from those who sustained gunshot wounds and those who were 'macheted' and all that," he claimed
Melaye said he was surprised that despite the level of violence and the reports of abduction of INEC officials and National Youth Corps Service members who served as ad hoc staff, the commission was collating "fictitious results," which he said would not be accepted as they did not reflect the realities of the situation.
Melaye further alleged that the results of Iyara, Adeyemi's hometown, were written while mayhem was unleashed on his (PDP candidate) hometown of Aiyetoro-Gbede which claimed the life of his nephew, Olajuwonlo.
He said, "We are waiting to see what INEC will do. But I reject in totality these fictitious results. I, Dino Melaye, won that election in the afternoon and the APC won it at night."