Abigail Anaba: The Quality of Teachers Vs Quantity of Teachers In Oyo State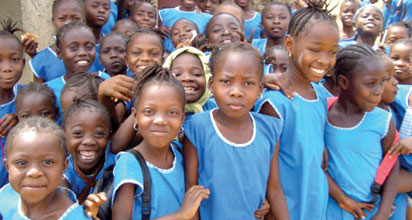 Estimated Reading Time: <1
Presently, Oyo State has a little less than 500,000 pupils and students in the about 3,000 state-run schools.  Unfortunately, as at the last report, an astounding 400,000 children are out of school. What this means is that for every child in school, one is out. If the quality of a society's human resource is the measure of its progress, then we can safely conclude that, in the absence of immediate action, Oyo State is toying with a human resources crisis.
For this reason, when upon assuming office in May 2019, Governor Seyi Makinde abolished payment of fees and any levies in public schools, it came as a welcome development.  Surely, Seyi Makinde was thinking in terms of removing the barriers in the way of the children getting into school. In a state where the average person survives on about N700 a day, asking parents to pay N3,000 to keep their kids in school was not justified.
His strategy already started yielding results almost immediately.  Vanguard Newspapers quotes Head of Service, Alhaja Ololade Agboola, as labelling the turnout of students for JSS1 and SSS1 entrance exams as "unprecedented." She also said that the number of pupils that sat for each of the examinations indicated that the state government has done the needful towards reducing the number of out-of-school children in the state.
Surely, the elimination of fees in public schools has a visible positive impact and sends a strong political message. In the same vein, the rehabilitation of dilapidated schools and the recently announced collaboration with the Federal Government and the World Bank on the Better Education Service Delivery for All (BESDA). However, and more important is the quality of education these children will get in the classroom. The quality of education they receive plays a significant role in keeping the children in school. Indeed, it is one thing to get the children off the streets; it is a completely different ball game to keep them in the classroom.
Any person involved in marketing a product will tell you for free that people only relate to the benefits a product gives. Once the benefits no longer appeal to them, they are ready to look for an alternative. The benefits can be tangible or intangible. It could be that it meets a physical need or a psychological need. Therefore, organisations that care about growth tend to meet both needs. In the case of education in Oyo State, the benefits must be sold to and bought by stakeholders lest they seek alternatives to education to the detriment of society.
Historically, the people of Oyo State have had a cordial relationship with education. The state hosts the first and still leading University in Nigeria. But in recent years that relationship seems to have degenerated. From the hoopla with Ladoke Akintola University of Technology (LAUTECH) to poor remuneration of teachers, education in Oyo State has sunk to abysmal levels. Add to that the fact that until this administration, pension of teachers was left unpaid. People were getting to the point where they see no practical value in education aside from learning to read and write.
Restoring education in Oyo State, therefore, requires a change in mindset. Mindsets are not changed by talking about an issue. Actions speak louder than words. A society that that rewards intelligence, skill and hard work – the very values that quality education promotes- is a society that places a premium on education. In contrast, a society that promotes political cronyism and nepotism is inadvertently saying that where you come from, your political leaning and who your friends are, supersede your skillset and qualifications.
Thankfully, Governor Seyi Makinde has taken a step that shows that he is ready to reward persons who have shown themselves skillful. The protests that greeted his appointment of Seun Fakorede as his Commissioner for Youth and Sports shows that he is ready to scale the walls of political divide to find the round peg when necessary. In reality, his cabinet speaks to the fact that intellectualism has rewards. For instance, moving away from the Nigerian political trope of using certain portfolios, including the Education Ministry for settling political friends, he appointed Prof Kehinde Daud Sangodoyin as his Commissioner for Education. Before his appointment, the Professor was working at the University of Botswana where he was the first lecturer to be promoted to the rank of Full Professor in Statistics.
Despite all of these, the all-important question remains: What more should Governor Makinde do about education in Oyo State? Statistician Wale Micaiah provides a comprehensive list of what quality education entails. He listed the following factors: quality of teachers, quantity of teachers, motivated teaching force, relevant and up to date curriculum, conducive learning atmosphere, learning tools and aids, participation of parents, setting of learning objectives and outcomes and a well-funded system.
To his credit, Governor Makinde, keeping  another promise he made during his campaigns, recalled the budget of the last administration, downsized it and upscaled the education budget to 10%. He has also promised to go even higher to meet UNESCO standards. There is no reason to disbelieve him. Still, while it is easier to pay for tangible infrastructure such as having a conducive learning environment, buying learning tools and aids and employing more teachers, intellectual infrastructure is even more important.
To this end, teachers must be trained. Those who are performing below par need to be identified, retrained, redeployed or shown the way out as the case may be. You cannot get a quality education without quality teachers. It is impossible to have quality teachers without quality training. Quality teachers cannot implement the quality training they have received without a quality curriculum. Improving the quality of education in Oyo State requires pragmatic, consistent and holistic effort in the areas of human capital and curriculum development.
These two areas are tricky and are the areas where a lot of state governments get it wrong. Osun State tried Opon Imo but the lack of direction and content derailed the process. Kaduna state tried firing teachers but the process was flawed.  In Ekiti and Edo States the teachers and the state governemnts clashed over the sitting of competency tests. If anything is to be learnt from these examples, it is the fact that when it comes to teacher's competency and curriculum reassessment, the teachers, backed by their Unions, will put up a hard fight to maintain status quo. There will be strong resistance. But, this is a battle Governor Seyi Makinde must be prepared to fight, and a battle he cannot afford to lose.
If the morning is proof of what the rest of the day will be, Governor Seyi Makinde has shown that he is ready and willing to ruffle more than a few feathers in his quest for excellence. So far, he has sacked Local Government Chairmen. He defended his action by saying they were occupying their positions illegally. He also proscribed the NUTRW when he found their existence was at crossroads with the transport security of the state. Will he show the same boldness in tackling education in Oyo State? Does Prof Sangodoyin have the resilience needed to tackle the key issues that confront Basic Education in Oyo State? Only time will tell.
__________________________
Opinion written by Abigail Anaba, a writer and contributor to NewsWireNGR