President Buhari Angry PDP 'Allegedly' Shared Dollars During The Presidential Primaries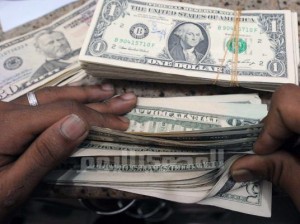 Estimated Reading Time: <1
President Muhammadu Buhari broke his silence regarding the emergence of former Vice President Atiku Abubakar as Presidential flagbearer of the Peoples Democratic Party, accusing him of securing the party's mandate through financial muzzle.
Buhari also regretted the crave for materialism on the part of the electorates, warning that most politicians never mean what they preach about.
He made these remarks at the closing of a 3-day Interfaith Conference on "Religious Harmony in Nigeria: Towards the 2019 General Elections".
"Even in their late primaries recently dollars was being given, nobody takes naira," Buhari said rhetorically.
According to the President, religious leaders were not extricated from the deceit going on in the polity as a good number of them use religion and ethnicity for cheap political gains.
He warned that such individuals were fraudulent and Nigerians should be weary not to trust them.
Buhari however narrated how he was cheated politically during his previous attempts to occupy the presidential seat in 2003, 2007 and 2011 by those he described as members of his religious and ethnic groups.
Aside the electorate Buhari also opined that most Nigerian politicians were equally materialistic in nature than parading themselves as religious or ethnic champions.
He said they only use religion or ethnicity for selfish reason.
"The question of religion and ethnicity is fraudulent. Some people are not sincere they don't mean what they say.
"I'm telling you and some of you know during my primary (in 2015) my opponents said naira had finished and people were given dollars.
"Really, it's materialism that we will fight to make sure that we stabilize every level and do justice to our country. "But, what I found out regrettably is that we refused to learn by other people's experience and we are refusing to learn from our own mistakes,'' he said.
Aside the statement recently issued by his Senior Special Assistant on Media and Publicity, Garba Shehu accusing the opposition of distracting the government, the inter-religious faith event provided Buhari an opportunity to personally talk about the ills of the polity and how daring politicians could be.