Cyril Ramaphosa Succeeds Zuma As South African President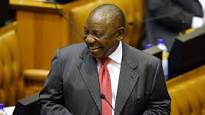 Estimated Reading Time: <1
South African lawmakers formally named wealthy former businessman Cyril Ramaphosa as new president Thursday after scandal-tainted Jacob Zuma resigned under intense pressure from his own party.
Ramaphosa, the only candidate, was approved without a vote by the parliament in Cape Town, chief justice Mogoeng Mogoeng told assembled lawmakers, to loud cheers.
Zuma announced his resignation late Wednesday, and aimed barbs at the African National Congress (ANC) party for vowing to oust him via a no-confidence vote in parliament.
In a 30-minute televised address, Zuma said he had "come to the decision to resign as president of the republic with immediate effect".
"I have only asked my party to articulate my transgressions and the reason for its immediate instruction that I vacate office," he said.
Zuma, 75, had been embroiled in a divisive power struggle with Ramaphosa, the deputy president.
Ramaphosa won control of the ANC when he was elected as its head in December.
Benchmark South African stocks scored their biggest gains since June 2016 after news that a pro-business reformist would be taking the helm.
The FTSE/JSE Africa All Share Index rose as much as 2.7 percent, while the rand reached its strongest level since February 2015, gaining 0.5 percent at 11.6570 to the dollar in early trade.
Zuma said in a TV interview earlier Wednesday that he had received "very unfair" treatment from the party he joined in 1959 and in which he had fought for decades against apartheid white-minority rule.
He said he was angered over "the manner in which the decision is being implemented… I don't agree, as there is no evidence of if I have done anything wrong."