Former Governors Donald Duke, Oyinlola Attend Launch of Obasanjo's Coalition for Nigeria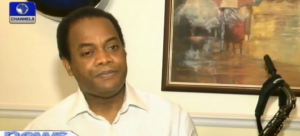 Former Cross River and Osun State Governors Donald Duke and Oyinlola Olagunsoye were in attendance during the launch of the Coalition for Nigeria (CN) movement.
Former President Olusegun Obasanjo had in a letter appealing to President Muhammadu Buhari not to sek for 2nd term, touted the CN as "the way out" for Nigerians. He wrote:
This Coalition for Nigeria will be a Movement that will drive Nigeria up and forward. It must have a pride of place for all Nigerians, particularly for our youth and our women. It is a coalition of hope for all Nigerians for speedy, quality and equal development, security, unity, prosperity and progress. It is a coalition to banish poverty, insecurity and despair. Our country must not be oblivious to concomitant danger around, outside and ahead. Coalition for Nigeria must be a Movement to break new ground in building a united country, a socially-cohesive and moderately prosperous society with equity, equality of opportunity, justice and a dynamic and progressive economy that is self-reliant and takes active part in global division of labour and international decision-making.