Not like it matters (I said it so you don't have to), but my love for "This Christmas" by Chris Brown and my appreciation for his brilliant artistry are not enough redeeming factors after his battery of Rihanna. Truth is, there is no excuse for violence against women in my books, regardless of the victim blaming/shaming that some are wont to. Mallika Nawal said, "Perpetrators of abuse often make their victims believe that they are somehow responsible for their own abuse. Such misplaced notions shift the blame of the abuse from the abuser to the abused." Bottom line, there is no excuse for violence against women.
Yet this article wasn't conceived with violence against vulnerable persons in mind. Or maybe it was, but not in the traditional, prevalent sense of gender assaulting gender. There is, however no doubt that there is a swathe of humans currently suffering physical, mental, and emotional violence.
Guess who?
It is Nigerians. Yes. Abused by the very institution – government – supposed to provide leadership, protect, and keep us safe. Thomas Jefferson in the Declaration of Independence talked of "Governments, deriving their powers from the consent of the governed, are instituted among men to secure certain unalienable rights, including life, liberty and the pursuit of happiness." Let us deconstruct this, and relate it to our present circumstances.
Life. Liberty. The Special Anti-Robbery Squad (SARS), for all the miracles the Nigeria Police Force says it has performed and continues to perform, is effectively a killing machine with extortion as its unique superpower. In December, Nigerians took to social media to lament about their experiences with SARS, garnering local and international media coverage. Tale after tale of gruesome injustices meted out made the rounds, and protests across at least 10 cities were planned. There was absolute silence from the government, except for responses from the Police Force that everyone would have gladly done without.
This piece will ignore the sponsored #ReformSARS protests because our people say one should not wash dirty linen in public. However, these findings curated by Chine Ezekwesili provide a snapshot into the illegalities of a faceless, unidentifiable bunch the Police insists we 'report'.
That overview is a segue into the pursuit of happiness with yet another manifestation of the Police's friendship.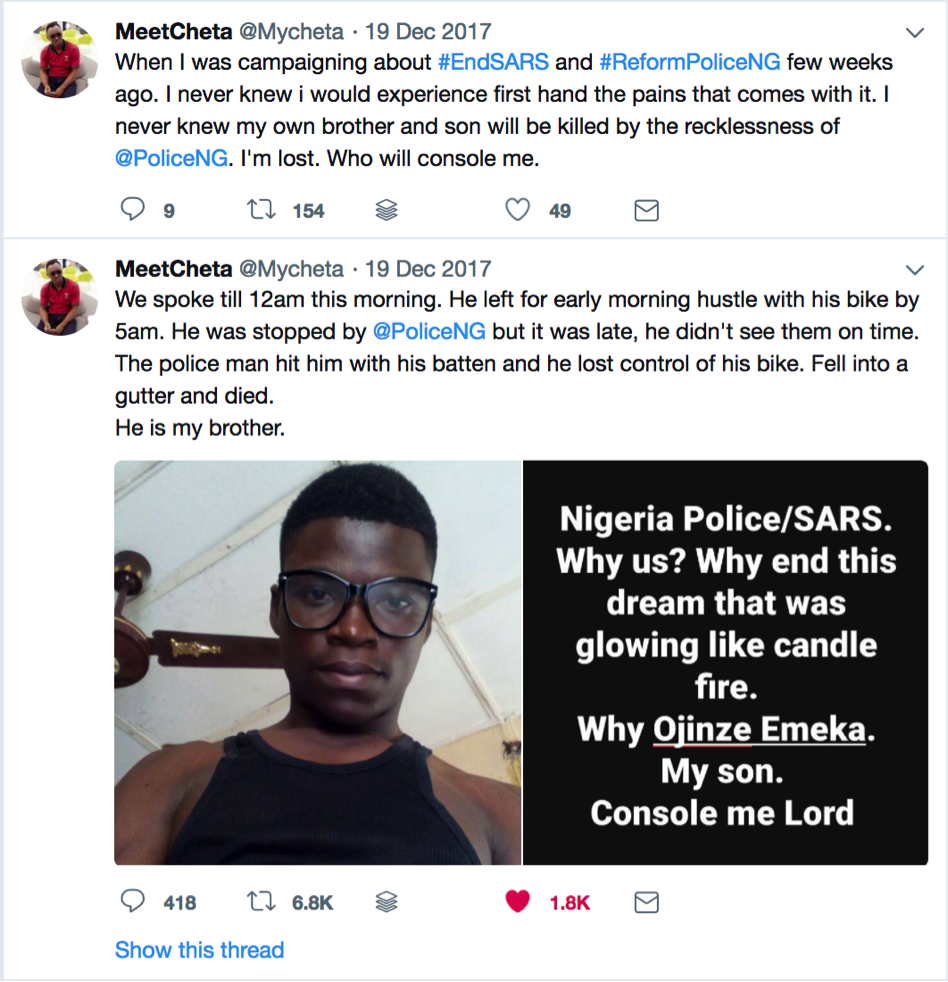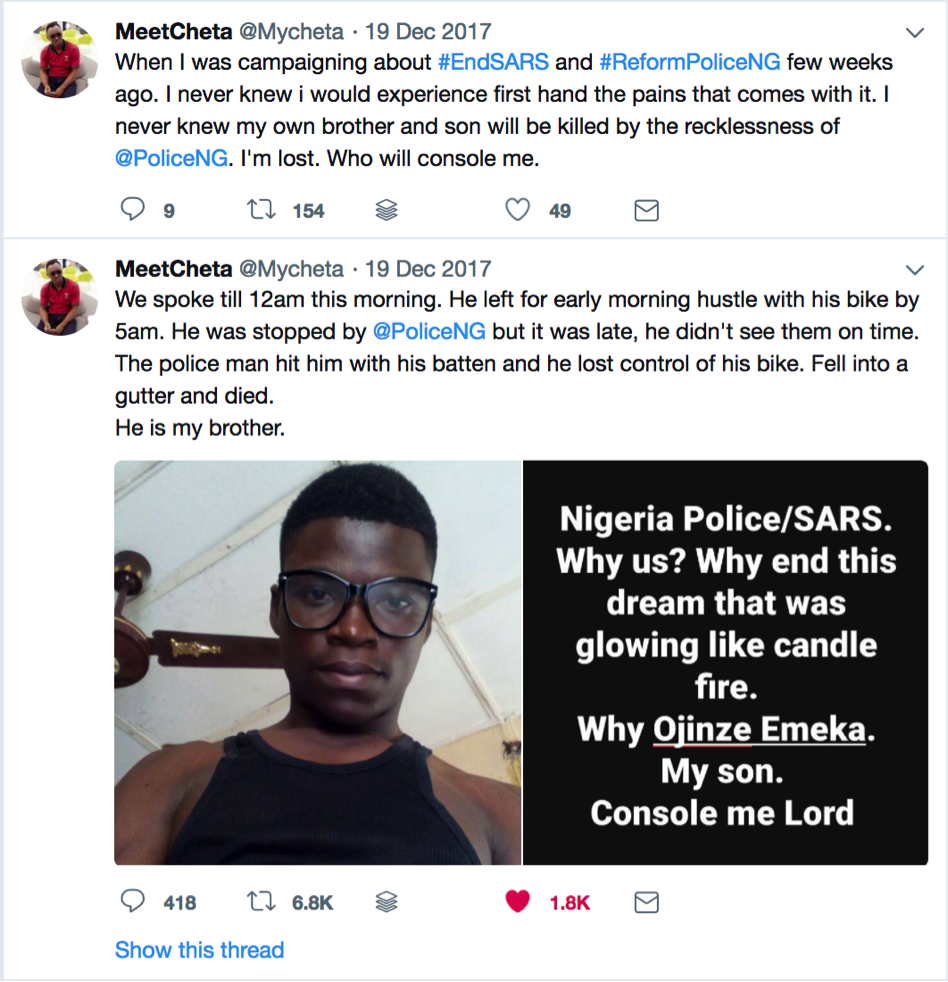 Assuming you managed to remain alive around the country, expertly avoiding the tripartite devils of Boko Haram (we've gone from Boko Haram being defeated to the controversial withdrawal of one billion dollars from the Excess Crude Account to fight Boko Haram, then a statement saying the money won't be used only for Boko Haram, to Mr President insisting Boko Haram has been defeated). In the midst of all of these inconsistencies, Boko Haram, also touted as on the verge of surrender by the government, has maintained a steady stream of attacks, including one on loggers in Maiduguri on the 30th of December 2017; at last count, the death toll is 25.  In Yobe, Boko Haram rang in the New Year with an attack on a military base, killing 5 soldiers, and 30 others are unaccounted for. Technically defeated, you said?
Hunger and poverty. According to the National Bureau of Statistics in its 'Unemployment and Under-Employment Report from 1st quarter to third quarter 2017', Nigeria's unemployment rate increased from 14.2 percent in the fourth quarter of 2016 to 16.2 percent in the second quarter of 2017 and 18.8 percent in the third quarter of 2017. In plain English, about 15.9 million Nigerians are currently unemployed.
Researchers say Nigeria will overtake India as the world's country with the most people in extreme poverty in February 2018, with approximately 7 people sliding into extreme poverty every minute. Over 82 million of Nigeria's 180+ million people currently live in extreme poverty. Yet we are plagued with public officers who prioritise their luxuries over lifting their constituents out of poverty. Daily Trust newspapers did a brilliant story on monies spent on cars in 2016; in the height of the recession of 2017, even states that struggled to pay the N18, 000 minimum wage took loans to purchase cars. Shame.
Perhaps the most insidious of the three is the disappointment and disillusionment this government has force-fed Nigerians consistently. Whether it is the silence on police brutality, Fulani herdsmen, or the corrupt practices of cronies and party members, the divisive and inciting commentary that have only served to further divide Nigerians, the near-total abandonment of the pillars this government campaigned on – lean government, rescuing the Chibok girls, fixing power in six months, removing subsidies and ending fuel scarcity, etc. – this is clearly not the Messiah we were hoping for.
What we have instead is a wanton abuse of our senses, stacking excuses for the paralysis of governance so high it could cameo in Kanye West's 'Touch the sky'. We have blamed everyone, from Goodluck Jonathan, to fuel marketers, foreign marauders, uncooperative foreigners, wailing wailers, enemies, even social media; everyone but the people at the centre of this feckless club of ego, nepotism, and a total disconnect from the pulse of Nigerians.
What we have is a government that is furiously rewriting Anezi Okoro's 'one week, one trouble with its officers as principal characters. When it is not undermining existing administrative hierarchies, it is bypassing the living to appoint the dead two years late. Where it is not abusing power and human rights on a whim, it is flouting court orders without apology. Where it is not lying outright, it is belting several versions of half-truths like a badly rehearsed choir.
All things weighed and balanced, from protection from internal and external aggression, to establishing justice for the common man (including perceived or actual enemies), promotion of the welfare of the people, and charting an inspiring path of progress and development, this is a bad, abusive relationship, and the government, the abuser. If you don't feel so, I do.
____________________________________________________________________________________
*Chioma Agwuegbo is a communication/social media strategist and Founder of TechHerNG