In Kano, Politics Tears The Kwankwaso Family Apart – Former Governors Brother Comes for his Head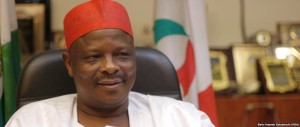 Estimated Reading Time: <1
Kano State Commissioner for Rural and Community Development, Musa Kwankwaso, ?has condemned ??Senator Rabiu Musa Kwankwaso's proposed visit to Kano?
He said the planned trip ?is ?not only intended to spite President Muhammadu Buhari, but to also test Kwankwaso's popularity.
Th Senator, a former Kano governor, last visited Kano in May 2015.
The commissioner, in a statement? at the weekend,? lamented that his brother deliberately shunned Buhari's recent official visit to the state.
He said: "(Senator) Kwankwaso shunned Buhari's visit because he wants to test his popularity against that of Buhari during his visit.
"Out of the three Kano senators, only Kwankwaso deliberately shunned Buhari's visit.
?"?Senator Barau Jibrin of Kano North and his colleague of Kano South, Kabiru Gaya, did not only attend the gathering but played specific roles to ensure the successful hosting of the President".
According to him, the sole aim of Kwankwaso's visit to Kano was to demonstrate to the world that he was more popular than Buhari in Kano state.
"But we want to remind him of how Buhari defeated him in the All Progressives Congress (presidential) primary in Lagos.
?"?Even Kano delegates who were in his camp then voted for Buhari. Nothing has changed since then," he noted.
The commissioner urged his brother to forget his presidential ambition and appeal to Governor Abdullahi Umar Ganduje, so as to retain his senatorial seat in 2019.
?Recall that ?APC leaders in Kano, earlier in the month, adopted Buhari as their candidate for the 2019 Presidential Poll.