Alleged 'Killer Wife', Maryam Sanda's Baby Cries Throughout Court Proceedings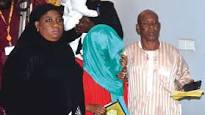 Estimated Reading Time: <1
Yusuf Halilu, a judge of a federal high court in Abuja, has refused to grant bail to Maryam Sanda, the woman who allegedly killed her husband in Abuja.
At the court on Thursday, Halilu said the bail application was not ripe for hearing, and he was not inclined to giving bail until all defendants were arraigned.
Joseph Daudu, the suspect's lawyer, did not succeed in putting up a favourable argument for his client.
Daudu had appealed to the judge to consider Sanda's six-month-old daughter, who cried virtually throughout the period her mother's fate was being decided.
The judge had to order that the child, who was in the custody of a relative, be taken out of court due to persistent crying.
The police filed an amended charge against Sanda.
The charge now includes three defendants – Maimuna Aliyu, mother of the suspect; Aliyu, her brother and one other person.
The judge ordered that Sanda should be returned to Suleja Prison pending her re-arraignment next Thursday.
Sanda has been remanded at the prison since November 24, after pleading not guilty to the charge before the court.
The police alleged that Sanda had caused the death of Bello "by stabbing him on the chest with a broken bottle which eventually led to his death and you did with the knowledge that your act is likely to cause his death".