Referendum On Biafra Will Fail, Says Governor Aminu Masari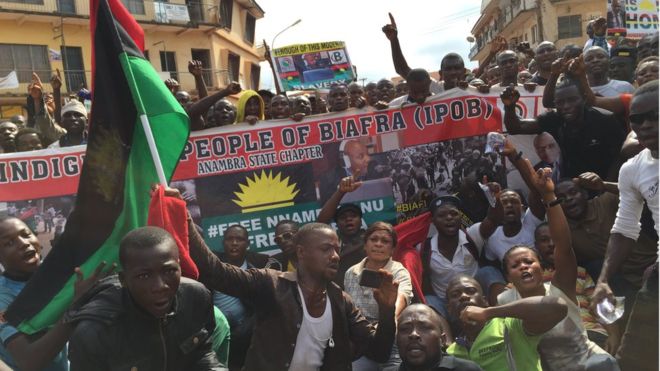 Aminu Masari, governor of Katsina state, says a referendum on Biafra will fail.
In an interview with Vanguard, Masari said referendum may be successful in the south-east but the region has only five out of 36 states in the country.
The governor said agitation in the country would significantly reduce if government could provide basic amenities for its citizens.
He said instead of the country's elite to address these issues with the position and power they possess, they've been creating division among the people.
"Referendum on what? If we are to have a referendum on Biafra, it will fail; even if it will win, it will only be in the South-East zone which has only five states against 31 other states," Masari said.
"If you are out of power, then the roof must collapse. If you are in power, you don't want to lose it. It is a Nigerian behaviour that once you are out of power, let the roof collapse. I think what we need to do is to work towards providing the basic necessities of life for the people. If you do that, all these agitations will significantly reduce.
"But we the elite who are opportune to be in the position of authority are using that to divide the people because once the people are united, they start looking at us. But if we create this confusion, then it is in the elites' best interest.
"Look at the Niger Deltans, have they examined themselves? They are the richest people in this country. Name any institution, they are the owners. The Hausa man, what does he have? What do we have?"
The governor said although he would support any move that would correct the country's past mistakes.
"I was in a constitutional conference during Abacha era. In that conference, some people were agitating for 8-state-structure, devolution of powers, this and that. There are certain aspects of devolution of powers and responsibilities that I support," he said.
"I support anything that will lead us to the correction of the mistakes of the past. Forget about these people, they are agitating from the outside; when they come into conference, they do something else. We were there. Obasanjo had his own conference. Where is the report? Obasanjo should have made the report of his conference public.
"Jonathan should have made his report public. The Buhari government has not organised any Constitutional Conference, or have we done one? So, why are you asking us to give you what we don't have? If we have done a conference, then it would be right for you to ask us to give a report.
"Why was it that Jonathan was not able to implement the report of his conference? Why was it that Obasanjo was not able to implement the report of his own conference? There are some people who make noise for attention and there are those who are sincere. But those who sincerely make noise are few.
"Go through the history of agitation and you will find a disturbing pattern in which agitators of today become the proponents of tomorrow. It all depends on the position in which you find yourself."