"We Will Bomb Abuja" – Recently Released Boko Haram Commander 'Threatens'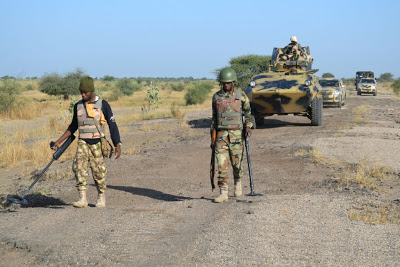 Estimated Reading Time: <1
Ahmad Salkida, a journalist privy to a yet to be released video by Boko Haram has claimed that Abubakar Shekau, leader of the insurgent group, has threatened to bomb Abuja,
In a series of tweets on Friday, Salkida said Shuaibu Moni, one of the Boko Haram commanders swapped with Chibok schoolgirls was the one who issued the threat in the video.
Salkida quoted Moni as saying more than five Boko Haram commanders were exchanged for the 82 freed Chibok girls.
Moni reportedly said there is no chance of reaching a peace agreement with the federal government.
Developing story: Abubakar Shekau has just released a video on Chibokgirls that were recently swapped with his fighters.

— Ahmad Salkida (@ContactSalkida) May 12, 2017
The video, yet to be uploaded on YouTube was made available to https://t.co/hwQJXNCsLB. I will tweet the highlights in a moment...

— Ahmad Salkida (@ContactSalkida) May 12, 2017
The video has Shuaibu Moni, one of the swapped BH commanders issuing threats to Nigerian authorities and it's president.

— Ahmad Salkida (@ContactSalkida) May 12, 2017
The commander, in the video, declared that it is not true that only 5 commanders were released, warning of imminent bombing of Abuja.

— Ahmad Salkida (@ContactSalkida) May 12, 2017
He further said that there's been no 'sulhu' dialogue with govt and there won't be. Only war is between us, he declared.

— Ahmad Salkida (@ContactSalkida) May 12, 2017