"I Can Contest Election Anywhere in the South-West" – Aregbesola Hints of a Senatorial Slot in Lagos After 2018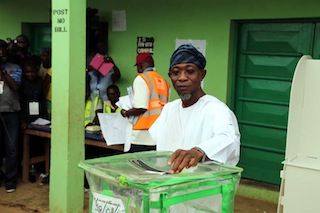 Estimated Reading Time: <1
Rauf Aregbesola, governor of Osun state, says he can choose to contest for elective office in any state of the south-west region when his tenure ends in November 2018.
Aregbesola, however, said he has not yet made up his mind about a senatorial ambition in Lagos state.
The governor made the comments during an all-night interactive programme tagged 'Ogbeni till day break' held in state capital Oshogbo on Saturday.
"If I want to contest, I can contest anywhere. If we are genuine and sincere about regional rearrangement, then why are we concerned about where a man comes from? Rauf can appear when the time comes anywhere in the region," Aregbesola said.
"But let me tell you this that there is no such decision yet."
He also noted that it is God that will determine the person who will succeed him as Osun governor.
"When it comes to who will succeed me I always pray to God to provide someone that would be better than me. But our party has ruled that nobody should aspire yet," he said.
Aregbesola denied reports that the All Progressives Congress (APC) in the state is in disarray over the 2018 governorship election.
"In the APC, we are united, connected and we are working so well. There is no part of our party's organisation, administration and management that has suffered in any way," he said.
"Our party is not in anyway being threatened. If a party in power for six years is working so well and the opposition is scattered, dismembered, uncoordinated, as our opponent is now, where is the fear of threat to our party?
"If there is an incumbent government as peacefully co-existing as we are, then we can brag of such a party. If not in the whole country, our party is one of the parties which had all those who ruled, there is no threat from anybody. We have a very cohesive political structure in Osun."