APC Governors Just Said Buhari Can Remain Incompetent For All That Matters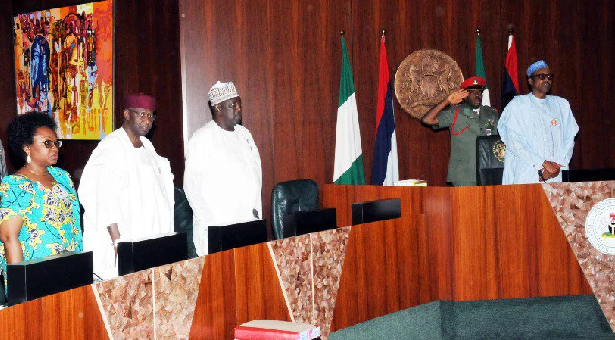 Estimated Reading Time: <1
Governors elected on the platform of the All Progressives Congress (APC) say it is not compulsory for President Muhammadu Buhari to preside over the federal executive council (FEC) meeting.
Nasir el- Rufai of Kaduna state made this known while addressing journalists on the outcome of the governors' meeting with members of the national working committee (NWC) of the ruling party.
He also said the constitution made provision for Vice-President Yemi Osinbajo, to preside over such meeting in the president's absence.
El-Rufai said APC governors were not bothered about the speculations that Buhari had been absent from FEC meetings because he was ill.
"We are not worried yet and have no reason to be worried, but we however, urge Nigerians to continue to pray for the president to be in good health," he said.
He said it was normal for the president to have medical challenge, considering the fact that he is over 70 years old.
"Even me that is 57 years old, I still go for medical check-up," El-Rufai said.
He, however, debunked insinuations that APC had internal crisis, stressing that the party was intact with a unified leadership structure, adding that contrary to speculations, its NWC was intact.
El-Rufai explained that the reason the party was presently constrained financially was because it did not rely on public funds to operate like some parties in government.
According to him, the party is funded by private and cooperate donors who had been its sponsors before it came to power.
He said the party`s leadership was willing to return to such donors to raise funds to ensure that it was operated as expected.
The governor said the meeting discussed best incentives to reward loyal party members, in line with its constitution.
El-Rufai also said that the governors, at the meeting, pledged their loyalty to the party`s leadership and promised to meet with its NWC members monthly.
The move, El-Rufai said, became necessary to discuss ways of strengthening APC and move it forward.
He said a date would be picked for the party`s national executive council meeting at the governors next meeting with the NWC members.
Earlier, John Odigie-Oyegun, the APC national chairman, commended the governors for attending the meeting, in spite the short notice.
Twenty APC governed states were represented at the meeting, the second in the year.