#OtodoGbame The Violent Eviction of Hundreds of Residents By Lagos State Government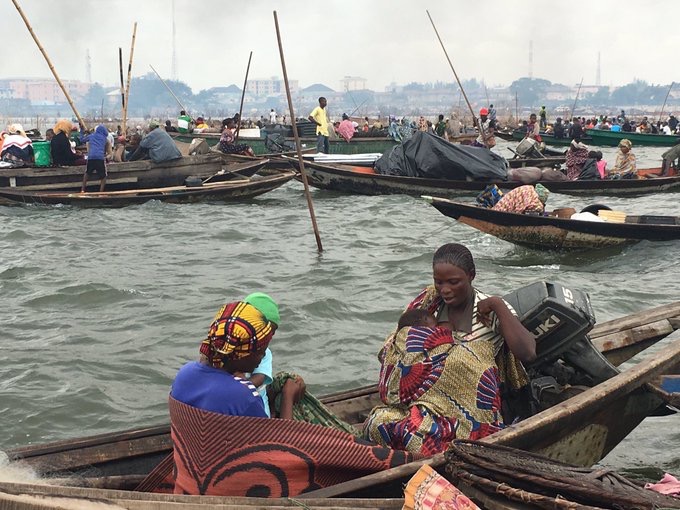 Residents of Otodo Gbame, a riverine community in the Lekki area of Lagos state, were allegedly shot dead during a demolition exercise by men of the state's task force on Sunday. According to the Justice and Empowerment Initiatives (JEI), a non-governmental organisation, a stray bullet hit Daniel Aya, who was rushed out of the scene, but died hours later.
The organisation shared pictures of residents who were fleeing the community as a result of government's action.
 Here's a statement issued by a civil group condemning the forceful eviction..
We condemn the forceful eviction of the residents of the Otodo Gbame community in Lagos State by the Lagos State Government using men of the Nigerian Military, Nigerian Police Force & the NSCDC.
2. These forced evictions led to the deaths of two people while several people sustained injuries. Thousands of people including vulnerable women & children, some as young as 2 months old, were forced to sleep in canoes on the open sea as a result of this illegal and insensitive action.
3. This violent eviction contradicts all known provisions of the law regarding property rights of residents in such communities, the acquisition of such rights, payment of compensation, the right to life and the right to dignity of the human person as provided for by our Constitution, the Land Use Act and several pronouncements of the Supreme Court.
4. This violent eviction is all the more illegal considering that there is a pending order of a High Court in Lagos State restraining it from carrying out this very sort of action.
5. While residents of the community are seeking legal redress, we appeal to Nigerians to donate relief items (in the form of old clothes, mosquito nets, food and so on) to the victims of this vindictive illegality.
Cash Donations can be made to
Community Legal Support Initiative
GTBank Plc
0167999455.
Relief materials can be dropped off at
No 310 Herbert Macaulay Way, 3rd Floor, Sabo-Yaba.
6. We urge the Lagos State Government to stop the acts of mindless violence, rehabilitate the victims of these forced evictions & follow the proper procedure provided for by our laws for the acquisition of these lands.
7. God bless Nigeria
SIGNED:
Deji Adeyanju
Convener
FOR: CONCERNED NIGERIANS