NSCDC Officials Involved In Oil Theft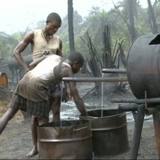 Estimated Reading Time: <1
The Nigeria Security and Civil Defence Corps (NSCDC) has suspended two of its officers for alleged involvement in oil theft in Bayelsa.
The Corps Sp?okesman, Mr Emmanuel Okeh, disclosed this in an interview with the News Agency of Nigeria (NAN) on Friday in Abuja.
Okeh said the management of the Corps condemned the alleged possession of illegal petroleum products suspected to be diesel (AGO) by two officers of the Corps who were recently arrested and presented to newsmen by the Police.
He said that the? ?Commandant-General of the Corps, Mr Abdullahi Muhammadu, had set up a panel of inquiry to investigate the matter for proper action to be taken in line with the public service rules.
According to him, the affected personnel, Assistant Superintendent of Corps (ASCI) Agah Utavie, and Assistant Superintendent of Corps (ASCII) Angel Kilosomewo, ?had been suspended from the service until investigations were concluded.?
He said that the Commandant-General of the Corps, Abdullahi Muhammadu, had therefore warned officers and men of the Corps to desist from such act or face the full wrath of the law.
The Police had on March 23 presented to newsmen two officers of the NSCDC for allegedly dealing in suspected illegally refined diesel in Otuasegha area of Yenagoa, Bayelsa.
The Police? Force spokesman, CSP Jimoh Moshood, had said that the suspects were arrested by the Inspector-General of Police (I-G's) Special Task Force on March 7. ?
Moshood said that their office had been informed and that the police investigating team was awaiting their response to conclude investigation into the case and arraign them in court.