Rochas Okorocha Tells Igbos To Wait Till 2023 Before Thinking About The Presidency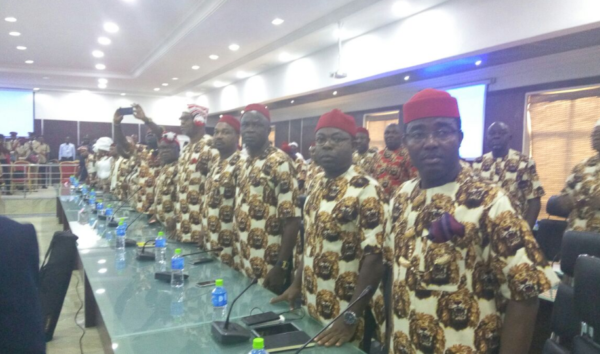 Estimated Reading Time: <1
Rochas Okorocha, Imo state governor, says the Igbo should consider occupying the highest office in the land after the second term of President Muhammadu Buhari.
The governor was reacting to a statement by former President Olusegun Obasanjo that the Igbo should be considered for presidency in 2019.
Speaking with journalists after a meeting with Acting President Yemi Osinbajo in Abuja on Monday, Okorocha said his party, the All Progressives Congress (APC) had become a strong force in the south-east.
"What I do know is that Ndi Igbo should talk about presidency after President Muhammadu Buhari. I think we should support this government," he said.
"President Muhammadu Buhari has a tenure to work for, four years or eight years according to the zoning arrangement and everybody should follow the zoning though I am not an advocate of zoning."
Okorocha also said that two governors from the south-east would soon join the APC, and that Ken Nnamani, former senate president, had been nominated to lead the party in the region.
?"The APC as a party is strong in the south-east. We are trying to rebuild the party and redefine leadership so there will be no confusion," he said.
"As to whether the APC in the south-east is in disarray as the case as always been; we want to have a united party in the south-east. We are hopeful from all discussions that about two governors will be joining us in the south-east to strengthen the party. Right now, we have agreed that Sen Ken Nnamani should take a lead of the party in the south-east to enable us have a common understanding – along with other leaders like Chief Jim Nwobodo."