"The Message Bears No Relevance" – Bishop Oyedepo of Living Faith Reacts To Viral Video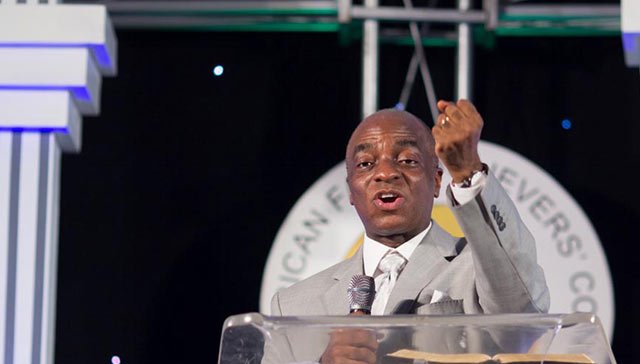 Estimated Reading Time: <1
David Oyedepo, founder and presiding bishop of Living Faith Church has reacted to the video trending online depicting himself charging his congregants to defend themselves in times of terror attack and to kill anybody planning to attack his church.
The fiery cleric in a statement issued by Sheriff Folarin, chairman of his church's editorial and media board said the video was shot at the
heat of Boko Haram attacks in 2015 when many Christian worship centres in the northeast were subjected to severe attacks by the insurgents.
The reaction has clarified the speculations about the circumstances that prompted the utterances in the video as it was thought in some
quotas to have been moved by the current happenings in the southern Kaduna state.
"The video from which the quotes were taken is a 2015 video at a Sunday service in the heat of the Boko Haram crisis, when churches,
including our northern assemblies were under frequent attacks. This was before the present administration took office," the statement said.
"The message bears no relevance to today's happenings; not even developments of 2016. The reporter(s) made the 2015 message look like
a 2017 church service message. The trending video is NOT a 2016 or 2017 video.
"To this end, we can unequivocally and authoritatively say that this quote, the report and other similar reports do not fit the context of
the Kaduna crisis or any developments whatsoever in the last one year.
"Bishop Oyedepo has not said, either in private or public, anything related to the Southern Kaduna killings: not now, not hitherto. If
there has been anything done, it has been prayer for peace and unity of Nigeria. The intent of the original author(s) or fabricators is
best known to them.
In the said video the cleric also placed curses upon the sponsors of the attacks against Christians in the country.