In Just 18 Months In Office, Wike Has Had Seven Commissioners of Police – Senator Slams Amaechi & APC Gov't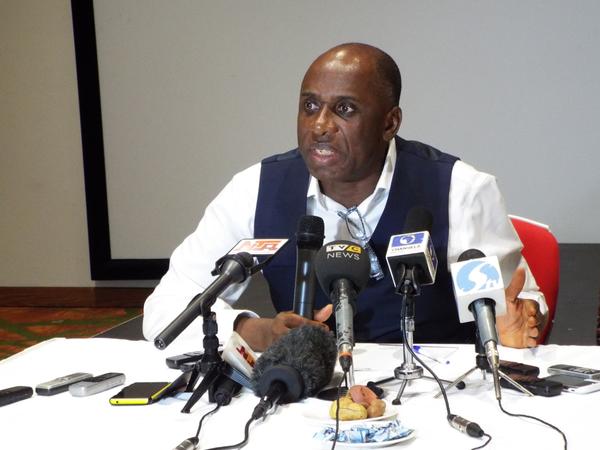 Estimated Reading Time: <1
Senator Lee Meaba represented Rivers South-East in the 6th Senate. In this interview, Meaba attributes the crisis in Rivers State to political fanatism and an attempt by the All Progressives Congress (APC) – led Federal Government to take the state by force. He also concern and the implications of President Muhammadu Buhari keeping quiet while a component of the country that produces about half of its resources is in turmoil.
"You say a man is an armed robber but you take money from him to eat; you say the man is a killer, but you feed from the money you took from his pocket. I know the aggregate of what some people in the APC want to paint of Rivers but I tell you, Lagos was until recently in the hands of the opposition since 1999.
Meanwhile, successive PDP (Peoples Democratic Party) administrations have left Lagos State alone. Also, PDP has consistently won elections in Rivers since 1999, so, Rivers is a PDP state; it is not a swing state because the activities of Governor Nyesom Wike are apparent in development, tremendous in economic activities and in the emancipation of the people and so, the people in Rivers are happy. What is causing problem in Rivers is because the APC government wants to turn Rivers to APC by force.
He said, the APC in Rivers, led by Rotimi Amaechi, is using the army to invade Rivers, causing a whole lot of disagreement on the ground, and painting a whole lot of wrong impression about the state.
"And this is a state where he was governor for eight years. Governor Wike has been in office for just 18 months, how many Commissioners of Police has he had? Seven. As the man arranges with a Commissioner of Police to fight crime, they will change the Commissioner. When he was governor, anytime Rotimi Amaechi said the Commissioner of Police was not working with him, they will change the Commissioner.
"So, why are you trying to destabilise a state that is crucial to the economy of Nigeria because of somebody's interest? Do the IG (Inspector-General of Police) and the DSS (Department of State Services) know the implication of Rivers going down? Do they know that their offices are run with the resources coming out of Rivers State? So, if Rivers has a problem, it is supposed to be resolved with combined efforts of the police, the army, the DSS and everybody to keep it peaceful.
"Rivers is the goose that lays the golden egg. But some people want to kill it because of political fanatism, Elections ended in 2015 and they said, 'oh, it was rigged because it was Jonathan's (former President Goodluck Jonathan) army'; they called for the re-run of parliamentary elections on the 19th of March, PDP won again. They said, 'oh, it was because Arase (former Inspector-General of Police, Solomon Arase) compromised.
"Now, there was another election. This time you brought 28,000 policemen, apart from soldiers. In fact, the total number of soldiers and other security men brought to Rivers was 38,000 men as if we were going to war and then they concentrated half of that in Bori to force the Ogoni people to write results."