Olisa Metuh's ill-Health Stalls Trial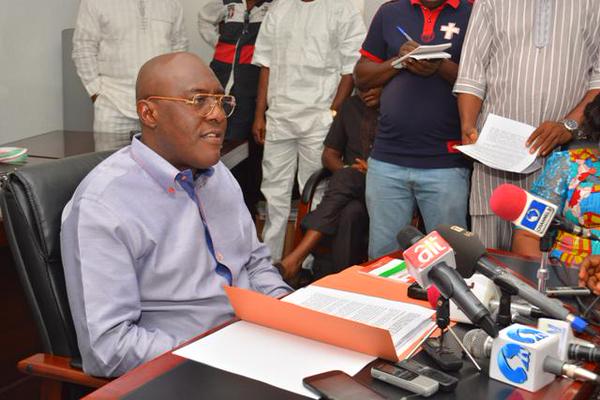 The trial of embattled former National Publicity Secretary of the Peoples Democratic Party, PDP, Olisa Metuh was stalled as he was not in court today due to ill-health.
Metuh is standing trial alongside his company, Destra Investment Limited, on a 7-count charge of fraud to the tune of N400 million pressed against him by the Economic and Financial Crimes Commission, EFCC, before Justice Okon Abang of the Federal High Court sitting in Maitama, Abuja
After counsel on both sides entered their appearances, Metuh's counsel, Onyechi Ikpeazu, SAN, informed the court that his client could not make it to court because he was indisposed.
His words: "My Lord, due to health complications, the first defendant (Metuh) was rushed to National Hospital on Sunday, January 8, 2017. I pleaded with the Consultants to give us a medical report to show to the court but this was not possible due to the fact that the report is to be a summation of the reports of five different Consultants. I called him (the doctor) ten minutes ago, but he became thoroughly 'abusive'."
In view of this, Ikpeazu requested that the matter be adjourned to January 11, 2017, promising that the report would be made available at that time.
Counsel to Destra Investment Limited, Tochukwu Onwugbufor, SAN, supported Ikpeazu's application for adjournment.
However, counsel to EFCC, Sylvanus Tahir, strongly opposed the application describing the explanation given by the defence as unreasonable.
Tahir argued that, the date of today's proceedings ought to have given the defence sufficient time to avail the court with, at least, a sick certificate.
"Explanation given cannot be taken as substitute for the certificate which is the preserve of a medical doctor. The explanation, therefore, does not constitute a reasonable explanation as envisaged by Section 352(4) of the Administration of Criminal Justice Act", Tahir argued.
He urged the court to 'take with a pinch of salt' the explanation given by the defence and to see the absence of the first defendant (Metuh) as a disregard of the bail conditions, so that trial could continue 'in absentia'.
After hearing the arguments of counsel, Justice Abang held that, adjournments were at the discretion of the court.
He said, "It is not automatic that the court must grant adjournment. It depends on materials submitted to the court."
Thereafter, Justice Abang adjourned to January 11, 2017 and ordered the defence to make necessary reports available.
Wilson Uwujaren
Head Media & Publicity
10th January, 2017