Sokoto Governor Disbands Hisbah After the Shari'ah Police Used Against the Masses Targeted Him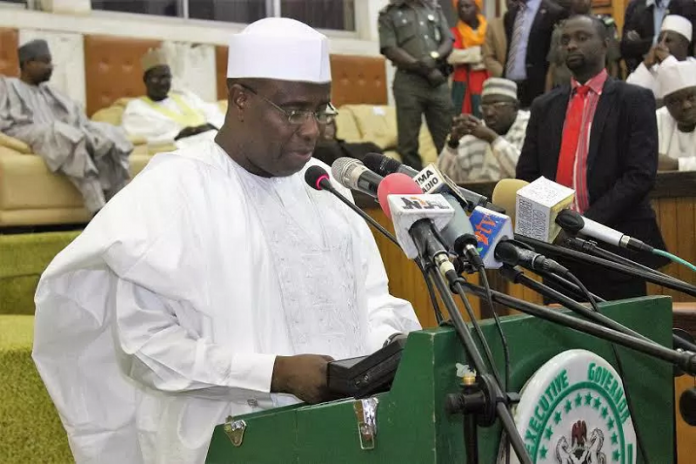 Estimated Reading Time: <1
Sokoto State Commissioner for Religious Affairs, Alhaji Mani Katami says the state government has disbanded the state Hisbah Commission due to crisis in the commission.
This comes as the Sokoto Hisbah Commission had seized the musical instruments used during the pre-wedding dinner of the daughter of Governor Aminu Waziri Tambuwal for allegedly violating Shari'ah law being operated in the state. Commandant of the Commission, Dr Adamu Bello Kasarawa said they had wanted to arrest the DJ that performed at the dinner but he escaped. He explained that what happened at the dinner was not permissible in Islam and that it was their mandate to correct anything that was against Shari'ah law being operated in the state.
But in a statement by the commissioner which was made this known to the News Agency of Nigeria in Sokoto on Sunday.
Katami said that the decision was taken on Saturday during a meeting with the leadership of three factions in the commission and the officials of ministries of religious affairs and Justice.
"This action was taken as the three groups had failed to harmonise themselves into one group, for efficient and united operations.
"The state government had given them a grace of over one year to do so, but the groups had failed to harmonise, this is contrary to the Act establishing the commission.
"This had allowed unnecessary bickering, unilateral operations, while myriad of complaints were received from members of the public about alleged overzealousness and high handedness of its operatives."
Katami directed the Chairman of the commission, Dr Adamu Kasarawa, to immediately hand over all documents and property of the commission to his office.
The commissioner said that the state government would soon constitute a proper and harmonised leadership of the commission.
Reacting, Kasarawa denied the allegations of wrong doing by the over 9,000 strong operatives of the commission.
"This action by the state government is very unfortunate, but I will hand over all items and documents with me as directed, because I am a law abiding citizen.
"It is not also true that we have been operating unilaterally, but some officials were not happy with some of our most recent operations."