"Discharging Police Officers Attached To Governor Wike, An Act of Dictatorship"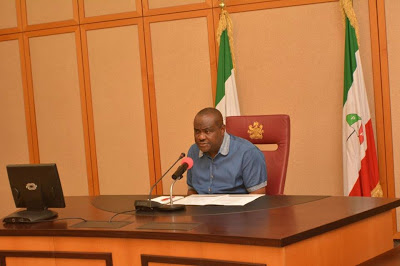 Estimated Reading Time: <1
Rivers State Government has described as the height of medieval dictatorship by the Federal Government the dismissal of six Police officers attached to Governor Nyesom Wike over issues relating to the December rerun elections in the state.
Commissioner for Information and Communications, Dr Austin Tam-George in a statement yesterday said lies were allegedly fabricated against the dismissed officers at the secret trial , insisting that they conducted themselves professionally during the elections."The Rivers State Government notes with sadness the decision of the Nigeria Police to dismiss six police officers attached to Governor Nyesom Wike.
The police officers were subjected to a secret and unfair trial, on totally fictitious charges of professional misconduct, during the rerun elections in Rivers State on the 10th of December 2016," he said.
"This is a tragic day for professionalism and the respect for human rights in the Nigeria police force.
The dismissed officers committed no crime, other than foil a carefully orchestrated electoral heist by officials of the Independent National Electoral Commission (INEC), in collusion with the All Progressives Congress (APC) and the Nigeria Police force.
The claim by the Police that the affected officers misused their firearms while in the convoy of Governor Wike on the 10th of December 2016, was a wrong and cruel fabrication," he noted.
The Commissioner, Dr Tam-George said the day the officers were dismissed was a tragic one for professionalism and respect for human rights by the high command of the Nigerian Police force.