El-Rufai Pampering Southern Kaduna Killers Instead of Arresting Them – Cardinal Okogie Says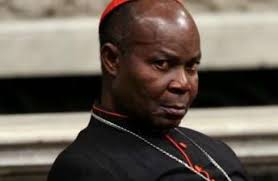 Estimated Reading Time: <1
Cardinal Anthony Okogie, the retired archbishop of Lagos, has called on President Muhammadu Buhari to take action against the Muslim Fulani herdsmen who are killing Christians in Kaduna State, Catholic Culture reports.
Cardinal Okogie compared President Buhari's silence to former President Goodluck Jonathan's weak initial reaction to terrorist activity by Boko Haram.
"Given the recent massacre of hundreds of innocent Nigerians in southern Kaduna by herdsmen, not a few Nigerians expected this silence to be broken," the cardinal wrote.
Mallam Nasir El-Rufai, the state's governor, he added, "paid a pacifying visit to the marauders when in fact he should have had them arrested."
Nigeria is Africa's most populous nation; its 186.1 million people are 50% Muslim and 40% Christian, while 10% retain indigenous beliefs.