Fulani Herdsmen List Condition For Peace In Southern Kaduna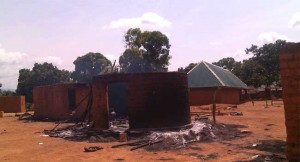 Estimated Reading Time: <1
The Miyetti Allah Cattle Breeders Association of Nigeria (MACBAN) believes that peace can only return to Southern part of Kaduna State only if both parties involved in the killings forgive each other and stop reprisal attacks.
Addressing a press conference at the weekend in Kaduna, Assistant National Secretary of the association, Dr. Ibrhahim Abdullahi called on he people of the area forget about what has happened in the past and move om. "We call on the entire people of southern Kaduna to forgive what has happened. Both parties should learn to forgive.
"This crisis will never end if you think you would go and revenge what happened to you , so we're appealing to all parties to sheath their swords and embrace peace" Abdullahi said.
The association also declared support to steps so far taken by the government of Kaduna state and all the security agencies aimed at ensuring the return to normalcy in the crisis ridden area.
Abdullahi called on leaders, especially, political and religious leaders to desist from making inflammatory statements that could escalate the situation in southern Kaduna.
"There should be no hate speech, we should avoid those speeches that paint us as fanatics or ethnic champions. Let us all work for peace. We inherited a peaceful southern Kaduna and I don't think we are sensible if we bequeath to our children and grandchildren a southern Kaduna that is fighting itself. We want to assure that we will continue to work with people of goodwill. In southern Kaduna there are good people that are out for peace" he said.
Narrating the events that led to the current crisis that started sometimes in May, Abdullahi recalled that "an argument ensued between two pastoralists that were trying to pass through a stalk route with which resulted in a fight with a farmer.
"Bother parties were wounded and were taken to hospital for treatment and I think one of the Ardo from that area volunteered to pay for the treatment of the Fulani that were wounded, but some youths thought otherwise and organised themselves, killed the Ardo, set him ablaze, burnt about 67 of Ardo's settlement and there we go.
According to him, "MACBAN with some well-meaning sons of southern Kaduna sat down together and started working on peace even up to the stage of signing an agreement.
He said further that a meeting of both parties was held at the Palace of Chief of Godogodo, "we asked all the nomads that were affected by those crises to return."
He said both parties were about to sign the agreement for peace when another killings happened again as "Four nomadic youths rearing their animals were killed and we started again from square zero."
Speaking further, he said some 42 belonging to some nomads from Plateau state were killed will passing through the area. "Later a new dimension was introduced to the issue where people just go out wherever they see a Fulani man with his cows, they attack and killed him.
"They block roads and stop vehicles, anybody with the sign of Fulani man should be brought out and kill etc. "That's what has been happening. In one of the killings, a Mining Engineer with his brother from Niger Republic, who had signed a MoU with Nasarawa State Government to prospect for solid mineral and was traveling to Nasarawa state was stopped and killed.
"Some nomads returning to Plateau state from Niger state where they went for a function, and somewhere in Denghi and Delmai at the border with Plateau, about thirteen of them were killed in Darade and one of them is still missing, and the vehicle they boarded was completely burnt. We had to quickly go, meet and discussed with them.
"Some Fulani traders returning from Lafiya were followed and tracked from Kagoro and finally got at Samaru, some were killed, but two of them were saved by a Kataf man who hid them in house for two days before returning them. "That's why we're saying the idea of revenge and retaliation is wrong. If you want to attack Samaru now to revenge what happened to your brothers you may likely kill that Good Samaritan. So let's avoid vengeance" Abdullahi stated.
He maintained that "as an association whose members has been unjustifiably accused and maligned, we think that it is time for us to make our stand and set the record straight for posterity."