"They Said They Will Blow The Plane That I Will Board" – Wike Say APC Wants Him Killed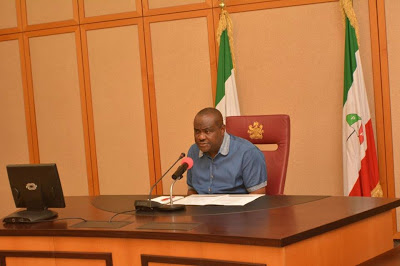 Estimated Reading Time: <1
Governor Nyesom Wike of Rivers State on Thursday accused the leaders of the state chapter of the All Progressives Congress, APC, of planning to bomb him while travelling in a plane.
Wike, who spoke at a thanksgiving service organised by the state PDP in Port Harcourt, said the target was for the state APC to get rid of him in its desperate bid to unseat the Peoples Democratic Party, PDP-led government in the state.
Maintaining that no one had the ability to destroy what God had blessed, he added that the opposition party in the state was not happy that he was paying workers' salaries and pensions to retirees despite the economic recession.
While criticising those calling for bloodshed in the state for selfish reasons, the Governor asserted that blood would continue to flow in their families.
He explained that God would continue to grant him victory no matter how hard the APC leaders in the state planned to eliminate him.
"They said they will blow the plane that I will board. You are plotting, do you know whether God will blow your own plane before that time?" Wike asserted, adding that the state was under constant assault by the leaders of the opposition party.