We Are Dying of Hunger And Starvation– Nigerian Youths Lament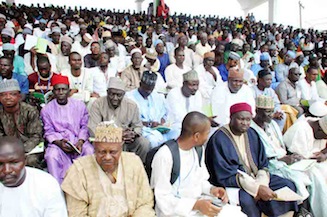 Nigerian youths Tuesday told President Muhammadu Buhari that they were dying of hunger and starvation. The youths also vowed to vote the president out of office if nothing was done to alleviate their plight.
This was the fallout of a town hall meeting organized by the Ministry of Information and Culture and held at the Presidential Villa, Abuja on Tuesday to appraise several contemporary issues in the polity.
The meeting saw the Ministers of Power, Housing and Works, Babatunde Fashola; Finance, Mrs. Kemi Adeosun; Agriculture, Chief Audu Ogbe; Labour and Productivity, Senator Chris Ngige; Budget and National Planning (State), Mrs. Zainab Ahmed; Sports and Youth Development, Solomon Dalong addressing the youths on the issues.
The issues ranges from the economy, power, labour, security, housing, finance, agriculture, sports and youth development amongst others. When it was time for questions and answers, a youth who gave his name as Abubakar from Kuje Area Council of the Federal Capital Territory, FCT Abuja asked the Minister of Information, Lai Mohammed who moderated the session to convey their thoughts to the president.
He said: "Nigerians are hungry. Minister of Information, Please, help me pass this message to him: I believe he had the youth in mind before coming to power. But it is as he got to power and changed. If he has changed, well, we are waiting for him in 2019." Abubakar also pleaded with the Minister of Sports and Youth Development, Dalong to stop embarrassing Nigeria.
He spoke on the heels of the delayed payment of the Super Falcons who recent won the African Women Cup of Nations in Cameroon. "The national embarrassment is getting too much. We cannot continue to have our heroes being treated in a manner that's not proper", he said.
Responding, the Agric Minister who also took questions from the crowd on the delayed distribution of fertilizers during the farming season admitted that indeed, Nigerians were hungry.
"Fertilizer came late because Boko Haram was using urea to make bombs. It took over two and half month. We were caught in between two security issues: food insecurity and social insecurity.
"A young man said Nigerians are hungry. Yes, it is true. We know it. Sometimes when you see the face of our president at meetings. He's in pain. We are all in pains. But we are driving hard to solve these problems", Ogbeh said.
His counter-part in Ministry of Sports also corroborated Ogbeh's position while fielding questions on the Super Falcons allowances and the shame the development brought to Nigeria.
"It's true, Nigerians are hungry. It is unfortunate that we have to go through that situation. We will definitely have to take steps to ensure that situations that subjecting our country to national embarrassments will be resolved", he said.
On the issue of having a controlled price of commodities, the Minister of Finance, Adeosun said it situation was majorly determined by the law of demand and supply.
"When there is no enough supply, prices increase. But we don't want prices to crash", She said.