Buhari Who Ignores ECOWAS Court Rulings Jets To Gambia, Begs "Drunk" President Jammeh To Relinquish Power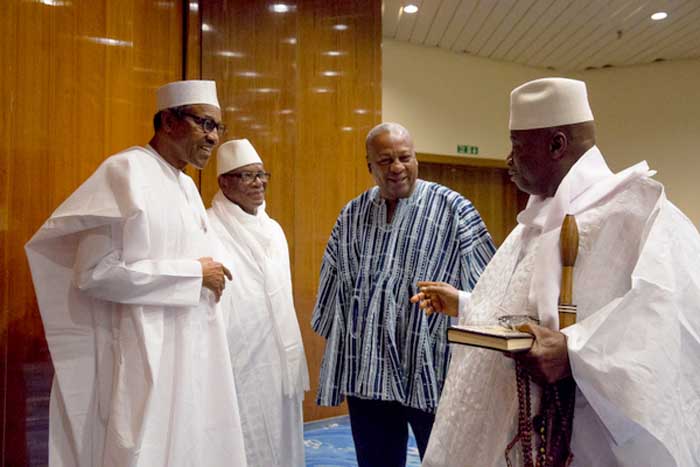 President Buhari who has repeatedly failed to comply with the judgement of an ECOWAS Court to release former National Security Adviser, Col. Sambo Dasuki, retd, is leading delegations to the Gambia to ask outing President Jammeh to stand down.
President Muhammadu Buhari will travel to Gambia on Tuesday to join other West Africa leaders to persuade President Yahya Jammeh to relinquish power to the president-elect, Adama Barrow in a bid to end the political crisis brewing in the West African country.
Jammeh, who polled 208,487 votes (39.6%) lost the December 1 election to Barrow, who recorded 222,708 votes (43.3%).
Jammeh, who had rued the country for 22-years conceded the elections to Barrow after the official announcement by the electoral umpire.
"I'm calling you to wish you all the best, the Gambian people have spoken and I have no reason to contest the will of Almighty Allah," Jammeh said.
Jammeh later turned round to reject the election result, saying: "After a thorough investigation, I have decided to reject the outcome of the recent election.
"I lament serious and unacceptable abnormalities which have reportedly transpired during the electoral process. I recommend fresh and transparent elections which will be officiated by a god-fearing and independent electoral commission."