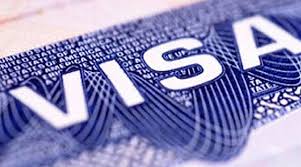 The Rapid Response Squad (RRS) of Lagos State Police Command has discovered fake embassy operating in Lagos, and arrested two Chinese men who have swindled a number of Nigerians.
Working on intelligence, the squad raided the phony office located at Golden Point and Suite, an hotel on Duduyemi Street, Ejigbo.
Liu Honyang, 47, and Sun Xinai, 49, were arrested alongside their Nigerian collaborators, Oriyomi Olawale and Desmond Chinedu, who are 47 and 25 years of age, respectively.
Adekunle Adefuye, one of the victims, narrated his ordeal to the RRS, stating that he paid N1.3 million for a travels to Trinidad and Tobago.
"I met these people (suspects) through one of their agents, Dorcas Slyver. She is a daughter to my brother's pastor in Abeokuta. I told her my intentions and zeal to travel to United States of America," he said.
"After a while, she told me to come to Lagos, that she could procure the American visa for me. On getting to Lagos, she took me to these Chinese where I was told that I should go to Trinidad and Tobago. They persuaded me to go Trinidad and Tobago, that it was easier to secure employment with at least $3,000 as salary.
"Initially, I declined to take their bait, insisting that I preferred America to Trinidad and Tobago. But in the long run, they brainwashed me into agreeing to go to Trinidad and Tobago.
"It was at this point, I was told that I would pay N1.3 million for the whole process, including visa processing and flight fare. The payment was made in installment: N376,000 for Visa, ticket N850,000, accommodation N39,000 and Visa Fee N33,000, which I obliged and paid all the monies into Dorcas' GTB Accounts: 0130671906."
He revealed that he and another person were rounded up immediately they got to Trinidad and Tobago by the country's immigration officers for coming into the country with fake visas.
"We left Lagos en route Lome on October 19th, 2016. From Lome to Sao Paulo in Brazil. From there, we moved to Panama where we boarded another plane to Trinidad and Tobago. On getting to the country, we were arrested by their security operatives accusing us of entering their country with fake visa and documents.
"We were locked up for 48 hours before we were deported on October 22nd, 2016, and we arrived Nigeria the following day."
In his reaction, Liu Hongyag, one of the arrested suspects, said that he only helped her boss do the paperwork and documents.
"We operated as separate entity as travel agency under the company's name, Golden Point Hotel and Tour, but our office is located inside the hotel. Sun Xinai is my sister, and she is the director of the travel agency.
"I only do paper works and documents for visa procurement…. I don't know how she secures visa for people. All what I know is that she travels to Abuja and comes back with that stamped visa. I am a phone repairer."