Nigerian Civil Servants Cry Out As FG Slashes November Salaries (Document Attached)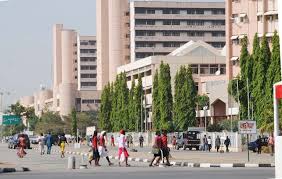 Estimated Reading Time: <1
Civil servants in ministries, departments and paratatals of government have decried the huge deductions on their November salaries without any fore-warning.
This is even as they lamented the increasing prices of goods and services.
LEADERSHIP findings revealed that the National Agency for Food and Drug Administration and Control (NAFDAC) and the Public Complain Commission last month were respectively under lock and key as a result of payment of half salaries while many others joined in November.
While some were said to record as high as 50% cuts, others could not ascertain how much they had been shortchanged.
Speaking on grounds of anonimity, a staff of Voice of Nigeria (VON) lamented that they only learnt of the salary cut when an internal memory dated November 30, 2016 was made available to them on Wednesday.
The memo addressed by the HOF to all staff, titled: 'Reduction in November 2016 Salary' stated that 'we received the Payroll report for the Month of November 2016 from IPPIS and observed there is a drastic reduction in the Net Pay of Voice of Nigeria staff'.
'On further enquiry, we discovered that the reasons for the deductions are as stated below'
Copy of the memo herewith attached…..
The memo made available to LEADERSHIP blamed the deductions on tax, pensions and national housing funds which were all formerly based on consolidated fund but had all affected staff gross salaries for November, 2016.
Another level 14 Cadre officer who spoke with Leadership on grounds of anonymity said "when I got the alert, I could not figure what was wrong, I just realised my salary was short with over N10,000. I wonder what those on level 7/8 will go home with at this time'
She laments that this is so sad, "At a time we are crying for increase, how can they be slashing? Things are so expensive and it's most worrisome to have the little we have be toyed with", she lamented.
Another Staff of the Ministry of Justice who also spoke with Leadership said she got her alert on November 29 and realised a deduction of over N40,000 was made.
I don't understand what is happening she lamented.
A CBN Staff also told LEADERSHIP that his salary was cut by half.
The affected staff have called on the accountant-general of the federation to immediately look into the matter even as they called out to the president for help.