Cheta Nwanze: We Made A Terrible Choice Voting Buhari, Jonathan Was Better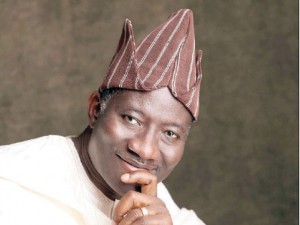 Estimated Reading Time: <1
By now, it should be clear to any and everyone that the current FG is on track to be the worst government Nigeria has ever had, bar none. There is still time to turn it around, but I am not optimistic for some very simple reasons?—?the intransigence of our dear leader, Muhammadu Buhari; the gridlock that has come to characterise Executive/Legislature relations; the ill-advised assault on the judiciary; the tightening of government controls over everything; and many more.
I think that at this point, a look at where we were last year is in order. This is the fact?—?in the last year of the Jonathan government, things had clearly begun to slow down. The avarice of the political class was beginning to show, and looking at our growth rate, we had plateaued, and were on a downward trajectory.
NIGERIA GDP ANNUAL GROWTH RATE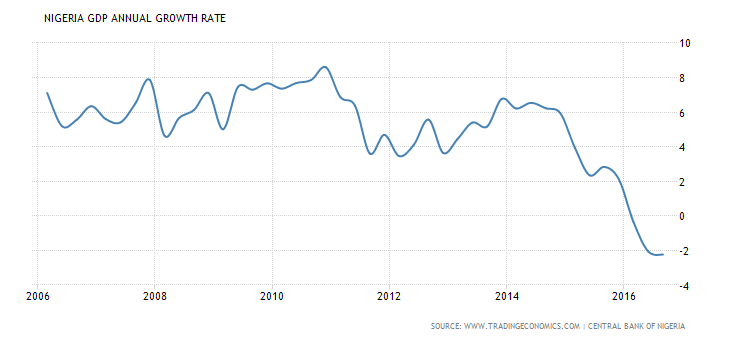 Nigeria growth rates for the last decade?—?you can see the sources
Looking at this, people who believed that we were ripe for a change, were right. Added to that is the simple fact that the man in charge at the time, in character and temperament, was the best person positioned to be Nigeria's first incumbent ever, to lose an election, and bow out gracefully. That he played according to that script, and did bow out, is Goodluck Jonathan's legacy, and no matter what vitriol is thrown at him, that will never be taken away from him.
Unfortunately, the fact that we removed a sitting incumbent increasingly appears to be the only gain we made from the 2015 General Elections. The government which was elected on the platform of improving things has not only spectacularly failed to deliver on its promises, but has taken us back in the process.
NIGERIA GDP ANNUAL GROWTH RATE
What happened
There was, an initial "bounce" which happened when Buhari was sworn in. Too many made the mistake of thinking that it was a sign of things to come, and to be honest, it could have been. Sadly, the man did not take advantage of it, but rather spent time glorying in the victory of his office.
Was GEJ's government better than Buhari's?
The answer to this is straightforward?—?and it is yes. Simply comparing some of GEJ's cabinet, which I've taken the liberty to do below shows it up in lurid detail:
Category A
Environment-Amina Mohammed v Ogar Odey
Petroleum-Ibe Kachikwu v Diezani Alison-Madueke
Solid Minerals-Kayode Fayemi v Mohammed Sada
Category B
Attorney General-Abubakar Malami v Mohammed Bello Adoke
Defence-Mansur Dan Ali v Bello H. Mohammed
Foreign Affairs-Geoffrey Onyeama v Gbenga Ashiru
Interior-Abdulrahman Bello Dambazau v Abba Moro
Labour-Chris Ngige v Emeka Wogu
Niger Delta-Usani Usani Uguru v Godsday Orubebe
Power, Works and Housing-Babatunde Fashola v Chinedu Nebo; Barth Nnaji; Mike Onolememen
Category C
Agriculture-Audu Ogbeh v Akin Adesina
Aviation-Hadi Sirika v Stella Oduah-Ogiemwonyi
Communication-Adebayo Shittu v Omobola Johnson
Finance-Kemi Adeosun v Ngozi Okonjo-Iweala
Education-Adamu Adamu v Ruqayyatu Rufai
Health-Isaac Adewole v Onyebuchi Chukwu
Industry, Trade and Investment-Okechukwu Enelema v Olusegun Aganga
Information-Lai Mohammed v Labaran Maku
National Planning-Udoma Udo Udoma v Shamsudeen Usman
Science and Technology-Ogbonnaya Onu v Ita Okon Bassey Ewa
Transportation-Rotimi Amaechi v Idris A.Umar
Women Affairs-Aisha Alhassan v Zainab Maina
Youth and Sports-Solomon Dalong v Yusuf Sulaiman/Bolaji Abdullahi
By now, you must have guessed that those in Category A are Buhari ministers that have outperformed their Jonathan counterparts, those in Category B are those who are on par with their predecessors, while those in Category C have fallen short of what their predecessors did in office. Yet, there has been not a cabinet reshuffle, and we have a minister saying that Nigeria will not go to the World Cup, because we are too poor to go. No! We made a foolish choice last year.
Now, how was the choice foolish?
Going back to the beginning of this treatise, the argument can, and will always be made that the GEJ government had to go, since we don't want to reward a bad government. BUT, did we have to replace it with this failure? The answer is no, therefore our first failure was cowardice.
We failed to be bold and look at the other alternatives on offer. There were other candidates on the ballot, bearing names such as Chekwas, Sonaiya, Okoye, Salawu, Galadima. We did not give any of these a look-in, but instead fell into the trap of binary thinking. Truth is, saying that Buhari is running a bad government, does not automatically mean that I'm saying that Jonathan ran a good government. Sadly, too many Nigerians are binary thinkers, and that is why we are still seeing some of the frankly, ludicrous arguments making the rounds on social media.
We replaced a government that was performing at 20% with one that is performing at 5%, and that is because we were binary in thinking. What happened to the protest vote? Why did we, when the APC presented to us, a frankly bad candidate, not coalesce around another party? Rather, we bought into the hype, gambled, and now, we may well have lost it all.
____________________________
Article written by Cheta Nwanze
Disclaimer
It is the policy of NewsWireNGR not to endorse or oppose any opinion expressed by a User or Content provided by a User, Contributor, or other independent party. Opinion pieces and contributions are the opinions of the writers only and do not represent the opinions of NewsWireNGR.