I Was Asked To "Stay Away" – Chief Bisi Akande, Explains Why He Did Not Attend Ondo APC Rally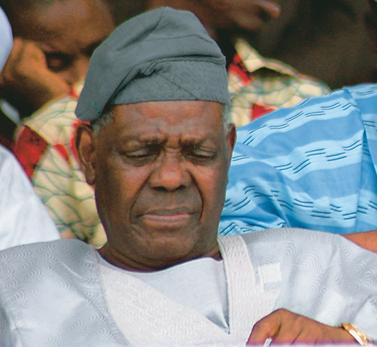 he pioneer National Chairman of the All Progressives Congress (APC), Chief Bisi Akande has said that his absence at the flag-off rally of the APC governorship candidate in Ondo State, Mr Rotimi Akeredolu was neither as a result of any resentment against the candidate nor the party.
He said he has no reason to shun APC campaigns and rallies in the state, stating that Akeredolu remains his close associates.
In a press statement made available to newsmen in Osogbo by his media aide, Mr Adelani Baderinwa, the APC national leader said he could not attend the rally because his doctors advised him to stay away from stress because of his health condition.
He expressed hope that the intraparty crisis in the APC would soon end as efforts are on top gear to find lasting and amicable resolutions to the crisis and unite members of the party.
The statement reads: "Our attention has been drawn to publications in some media, making unnecessary insinuations into Chief Bisi Akande's absence at the APC governorship rally in Akure on Thursday.
"May we state that: Chief Bisi Akande has no reason to shun APC campaigns and rallies in Ondo state because every APC aspirant that contested the Ondo state governorship primary in September has always been his close associate and knew so well that he (Bisi Akande) is being treated from one hospital to another in the USA, the U.K. and in Nigeria since last April.
"He, according to medical advice, is being asked to take things easy in the time being. Despite that, as an APC respectable leader, he has been working behind the scene to reconcile differences among the warring tendencies in the party."