Supreme Court Confirms Seriake Dickson As Bayelsa State Governor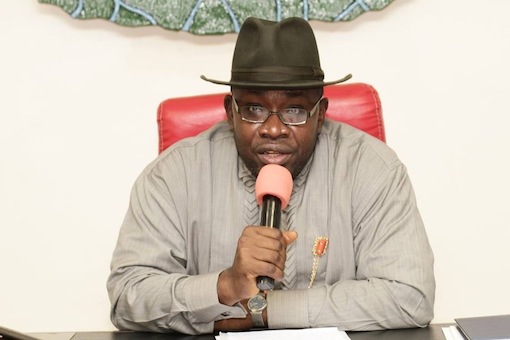 Estimated Reading Time: <1
The Supreme Court has dismissed the appeal filed by the All Progressives Congress' candidate in the last governorship election in Bayelsa State, Timipre Sylva.
The seven-man panel of the apex court led by Justice Tanko Muhammad, on Thursday unanimously affirmed the election of the Peoples Democratic Party's candidate, Governor Seriake Dickson, who was returned as the winner of the poll by the Independent National Electoral Commission.
Delivering a summary of the lead judgment, Justice Muhammad said he would give his reasons for his decision ?on November 18.
The apex court delivered the judgment after a marathon hearing of various cases filed with respect to the dispute over the last year's governorship election in Bayelsa State.
The Bayelsa State Governorship Election Petition Tribunal had earlier dismissed the petition filed by Sylva to challenge the outcome of the election.
He further appealed to the Court of Appeal in Abuja which also dismissed his case.
Sylva went further to the Supreme Court to challenge the decision of the appeal court.
Also on Tuesday, Justice Kudirat Kekere-Ekun, who is also a member of the Supreme Court panel, d?ismissed a cross-appeal filed by Dickson challenging some aspects of the judgment of the Court of Appeal on the dispute over the Bayelsa State election.
Other members of the panel also agreed with Justice Kekere-Ekun.
In another lead judgment by Justice Olukayode Ariwoola also dismissed the preliminary objection filed by the PDP against the appeal filed by Sylva.
Other members of the panel agreed with the lead judgment.
The panel members also promised to deliver a detailed judgment on November 18.