Buhari Has Succumbed After Complaints By APC Governors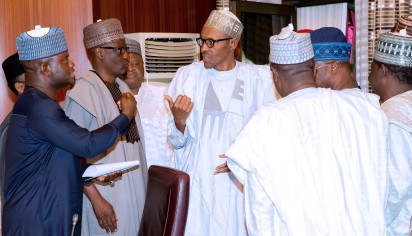 Estimated Reading Time: <1
President Muhammadu Buhari has finally succumbed after complaints from governors under the under the umbrella of the All Progressives Congress that they are left out making nominations for political offices.
The governors had met with President Muhammadu Buhari to air their complaints which they were reportedly asked to put in writing.
Governor Imo State, Rochas Okorocha wrote the letter, copying all APC governors.
Okorocha wrote: "Recall the meeting with Progressive Governors of October 23, 2016 on the above subject and the need to take every necessary step to ensure that party stakeholders are carried along as well as equitable distribution.
"Accordingly, Mr. President may wish to expressly request that party stakeholders meet on zonal basis to generate list of recommended nominees for consideration.
"While we await your directive, please accept the assurances of our highest esteem."
A governor also told the news platform that the President now consults the governors.
"The good thing is that consultations are now taking place, unlike before that the president would just make appointments without consulting us," he said.