Nigeria's President Buhari "ONLY" Solution Out of Ongoing Economic Recession Is Oil Money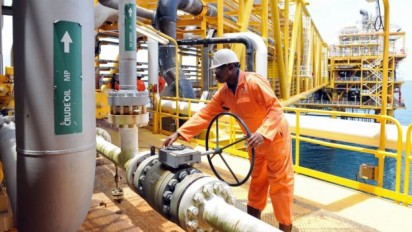 Estimated Reading Time: <1
President Muhammadu Buhari says Nigeria's practical key out of economic recession still lies in monies made from the country's oil and gas sector.
Speaking at the launch of the ministry of petroleum #7BigWins initiative in Abuja on Thursday, Buhari said oil proceeds are needed to lay a solid foundation for a diversified economy.
"The Petroleum industry remains critical to the Nigerian economy of today and the future, despite our current challenges," Buhari said.
"The golden era of high oil prices may not be here now, but Oil and Gas resources still remain the most immediate and practical keys out of our present economic crisis.
"Oil and Gas still remain a critical enabler for the successful implementation of our budget as well as the source of funds for laying a strong foundation for a new and more diversified economy."
He said "as important as it is to ensure that Agriculture, Solid minerals and other critical sectors of the economy are," the country still needs "a virile and efficient oil & gas industry to take care of our foreign exchange requirements".
"This Roadmap reflects the vision and aspiration of this Administration for this sector and I urge you all to deliver on the expectations contained in the Petroleum Industry Roadmap. This is a national imperative and a core thrust of our economic policy."
Buhari restated his resolve to restoring peace to the Niger-Delta, and enabling sustainable reforms in the oil and gas sector.
"Therefore, the task before the Ministry of Petroleum Resources is to maximize the potentials and opportunities across the whole range of the Oil and Gas industry to stimulate our economy in spite of the current challenges.
"To do this certainly requires creativity, innovation, technology and robust partnership amongst various stakeholders.
"There is also a dire need to instill a new culture of transparency and efficiency in the industry, streamline operations along best practices by championing and implementing strategic reforms at every layer of the industry.
"This will help us improve oil and gas production, explore our frontier basins, improve our local refining capacity and above all build sustainable partnerships with the oil producing communities.
"If we are able to plug the leakages, and tighten loose systems that characterized this industry in the days of high oil prices, we are convinced that we can do even more with the little that we are getting at the moment than we did even in the time of plenty.
"As you are aware, recent developments in the Niger Delta have temporarily limited our oil and gas production and supplies. However, let me reaffirm that, whatever challenges we are currently facing in the region, our resolve and capability to work with all stakeholders to restore normalcy will guarantee success."