83 Nigerian Soldiers, Including Commanding Officer Go Missing After Boko Haram Attack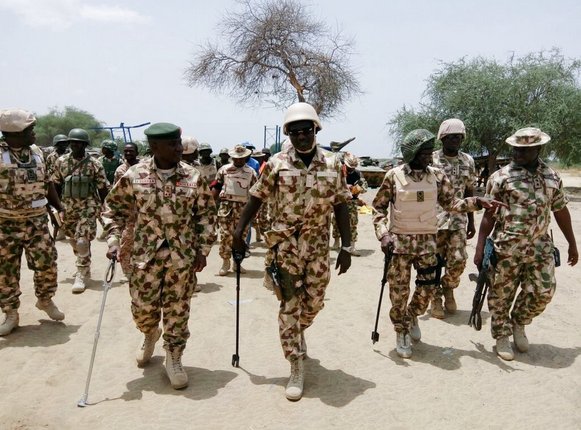 Estimated Reading Time: <1
At least 83 Nigerian soldiers, including a commanding officer, are still missing days after they came under a Boko Haram attack.
Top level military sources monitoring the development said that the soldiers were still missing in action as of Friday morning, four days after the attack.
The Army confirmed the attack in a statement on Tuesday, but has not given further updates. It did not also admit 83 soldiers were missing.
The latest update from several military personnel, follows our earlier report on how Nigerian troops drowned in a river as they scampered for safety in the face of a superior firepower from the terrorists.
While about 22 of the fleeing soldiers were later rescued by their Nigerien counterparts and dispatched to a hospital in Diffa, southern Niger, several others were fatally wounded after Boko Haram opened fire on them when they jumped into the River Yobe.
The Army leadership has established contact with the 22 soldiers —including two that sustained serious gunshot wounds— recuperating in the Niger hospital, PREMIUM TIMES gathered.
The missing Commanding Officer of 223 Tank Battalion in Gashigar, was identified as K. Yusuf, a lieutenant colonel.
Military sources said the troops could not withstand Boko Haram because they had only two light armour tanks to work with.
Even the two tanks were withdrawn from the battlefront in Damasak to Gashigar, leaving soldiers in Damasak and other small units nearby with no tank.
"May God touch the heart of our dear president to equip the Army," the source said. "How have we offended him that has made him not to equip us as promised?" one source said. "May God touch his heart to forgive. Our men are dying daily here."
Besides the poor equipment, the renewed show of strength by Boko Haram has frightened many, coming after months of relative success by Nigerian troops.
Since the beginning of this year, the Army had maintained that troops were clearing the sect's remnants across the troubled Northeast as a precursor to a new phase of winding down combat operations.
The Buhari administration claimed credits for the "improved morale" of the troops which had made it possible for previously displaced residents to return to their communities and commence rebuilding efforts.