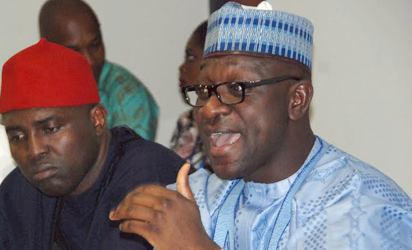 I was part of a group that met the lone fighter on October 3. It was a mission arranged by a social media community to establish the fact of his conflict with colleagues at the House of Representatives, which has resulted in his suspension for 180 days. The meeting was a re-introduction to revelations the lawmaker has already made, and an opportunity for us to ask him questions surrounding his new-found activism, mostly upsetting. It was a convergence of people who, ordinarily, wouldn't have been under one roof because of wildly differing political inclinations.
Jibrin began with a familiar description of the Nigerian lower legislative chamber, attributing the disdain for lawmakers to their double-standards. He said that such disdain was inevitable since they are wont to grilling government officials in the day and accepting bribes from the same characters at night. This came at the time a video of Hon. Herman Hembe, a lawmaker called out for his corruption on the floor of the national assembly, reappeared and going viral. As the Chairman of House Committee on Capital Markets, the lawmaker was confronted by his victim, Ms. Arunma Oteh, of how he swindled her agency, Securities and Exchange Commission. It was a humiliating clip, and horrifying that the same character got re-elected and even had the audacity to rebel against corruption allegations against the House.
Said Jibrin, "What happened at the House of Reps wasn't padding. What happened was a budget fraud." And then came a clarification, that the National Assembly indeed has the Power of Appropriation, and that what he meant by his accusations of frauds by his colleagues was that that power was abused.  He disclosed that projects were inserted in the budget by a clique led by the Speaker, with neither consultation nor feasibility studies. The clique created projects and gave their own cost estimates suo moto.   How Legislators got to fix the costs of projects in the national budget over dinner or lunch really beats me. That is what they did. As to why his colleagues at the House of Representatives are unwilling to join his force against budget fraud, Jibrin answered that it's because the Speaker has sworn to protect their allowances. And that, allowances, was my high-point of the meeting, the horrifying revelation that each member of the House receives N10 million monthly. I won't even bother about the mathematics of this unfair use of public funds.
Though Jibrin was subjected to tough questions by participants, I thought it was a miscalculation for us to throw out the bathwater with the baby. My position is made even easier with his stance he's not without blame and that the call for probity shouldn't be centred around him. And true, somebody telling you his colleagues are abusing public trust and misusing resources of the nation isn't asking you to make him a hero, he's telling you to save your nation from those colleagues—and he's not exonerated from the mess. I think that whether we like Abdulmumin Jibrin or not is immaterial. Our concern should be the veracity of his revelations and how to forestall recurrence of a gang of bandits creating projects for the nation and deciding their costs over a meal.
He only alerted the nation to a systemic flaw in an institution and how we are being serially scammed and taken for granted. It's an insider's revelation. Expected from a thinking nation is an alliance to facilitate conviction of all responsible, even him too, if found guilty. I don't see how this is difficult to understand, why we have to be a drama queen over an unambiguous issue. Jibrin is a whistleblower. A "whistleblower" is only an insider who has information the people don't. It doesn't mean innocent participant. The word for that is "saint", and saint is not a synonym of whistleblower.
To me, the worst twist since the House of Representatives corruption scandal began was APC's letter to the whistleblowing lawmaker, asking him to stop revealing that abuse of public trust. That was evidence of one thing, that the governing party sees corruption as misuse of public funds or power by anyone other than those that represent its interests. Perhaps this is why the same APC-led government trying former government officials – and recording "successes" on the pages of newspapers – condones corruption by its people at CBN, FIRS and now the House of Reps.
Our politicians may have shown the public they are different, but the truth is they are all united in protection of their corrupt practices and roles in permitting them. Nothing was done about Sanusi Lamido Sanusi's revelations of corrupt practices in the Jonathan-led government, just the way nothing is being done about Jibrin's now. Whether Jibrin too is guilty is a distraction. My interest is whether his revelations are true, and that if true the transgressors be punished. Of corollary interest to me is why these allegations are being "forgotten" by a change-advocating government and political party. But it is secondary to the veracity of Abdulmumin Jibrin's claims and action of same. May God save us from us!
______________________________________________
By Gimba Kakanda
@gimbakakanda on Twitter
Disclaimer
It is the policy of NewsWireNGR not to endorse or oppose any opinion expressed by a User or Content provided by a User, Contributor, or other independent party. Opinion pieces and contributions are the opinions of the writers only and do not represent the opinions of NewsWireNGR.