Kaduna Group Calls For Nationwide Ban On Islamic Movement In Nigeria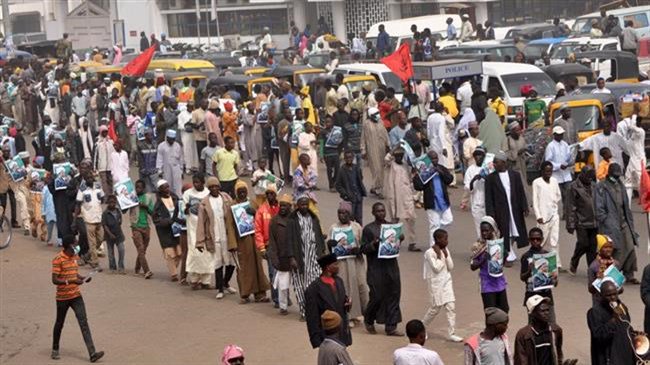 Following the recent order by the Kaduna State government outlawing the Islamic Movement in Nigeria (IMN) from operating in the state, a group, the Coalition Against Terrorism and Extremism (CATE) has urged the federal government to move a step better by placing a nationwide ban on the activities of the sect.
Addressing a press conference on Sunday in Abuja, CATE Secretary General, Daniel Obaje, described the ban on IMN by Kaduna state government as a welcome development, adding that it came at the right time given the series of activities that members of the sect had planned to undermine security in not just Kaduna state but across the country.
He declared that CATE reaffirms its strong stance for religious freedom of all Nigerians; but that is to the extent that individuals practice their faith without compromising the wellbeing of others; without imposing their beliefs on adherents of other faiths; and without coagulating into entities intended to undermine the secularity handed down by founding fathers.
He urged the Federal Government in conjunction with the Kaduna state government to immediately order a freeze on bank accounts illegally operated by the banned group since an organization that has no legal existence should not be able to meet the KYC requirements of banking institutions.
"It is in this light that we urge the Federal Government to follow the example set in Kaduna state by immediately outlawing the IMN nationwide and to pursue criminal charges against anyone that continues to maintain the group, remains its member or attempt to reorganize it under a new name or identity," he said.
"Because there have been previous concerns that remnants of the Boko Haram terror group are ditching their sectarian affiliation and joining IMN, the Federal Government should immediately mandate security agencies to dismantle the IMN's network, cells and infrastructure as a way of ensuring they are unable to resurface as a more deadly terror group.
"Those associated with the proscribed group should be kept under close security watch with a requirement that they are not allowed to travel abroad to countries where they could get advanced military training and further radicalization.
"In this regard, the ban on IMN should extend to its subsidiaries and affiliate organizations founded on the same model and ideology. Further directives must be issued to security agencies with the Economic and Financial Crimes Commission (EFCC) being in the lead of unravelling how much foreign funds come to the IMN and if they have link to international terror financing.
"We appeal to the judiciary not to overlook national interest in entertaining suits that IMN sympathizers would institute in their bid to overturn this ban.
"We urge government at all levels to identify and outlaw other extremists groups existing in the country. For this purpose, a database of such groups should be created and made public to discourage citizens from becoming members of, supporting or financing such groups."