Trial of Senate President, Bukola Saraki Over Alleged Forgery Stalled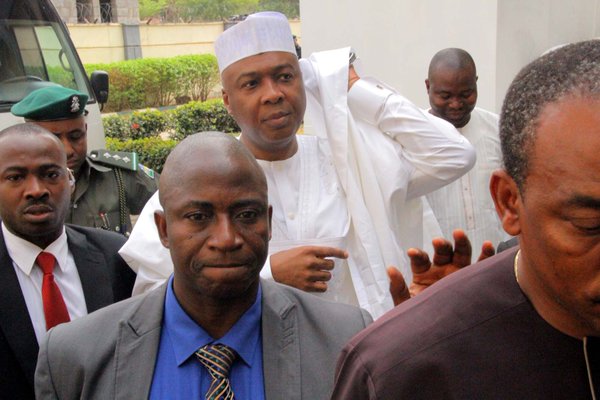 The trial of Senate President, Bukola Saraki, for alleged forgery was stalled on Wednesday, because the prosecution counsel, Aliyu Umar, said he had not prepared his response to a fresh motion by the defendants challenging the jurisdiction of the court.
Mr. Umar is prosecuting the case on behalf of the Attorney General of the Federal, Abubakar Malami.
Mr. Saraki, Deputy Senate President Ike Ekweremadu, former Clerk of the National Assembly, Salisu Maikasuwa, and his deputy, Benedict Efeturi, are facing trial for alleged forgery of the Senate standing rules used to elect them as leaders of the Senate in June last year.
The matter was adjourned in July till September 28 following the annual vacation of the judiciary.
At the opening of session on Wednesday, Mr. Umar informed the court that he had just received a motion from the defendants challenging the jurisdiction of the court in respect of the charges against them and asking that the case be dismissed.
He added that since the matter has to do with the fundamental right of parties to fair hearing, he needs to properly prepare his response to the motion.
"Just now I became aware of a motion by the first defendant and served on us on September 26. The motion is fundamental because it is asking your lordship to decline jurisdiction and quash the charges. It is a short notice?," he said.
"I have not filed anything?. It is fundamental to fair hearing. Under the circumstances, I will ask for an adjournment to enable me to respond to the motion.