"Cattle Rearing Is A Private Business; Those Involved Should Not Become A Threat To Other Nigerians" -Ohanaeze Back Fayose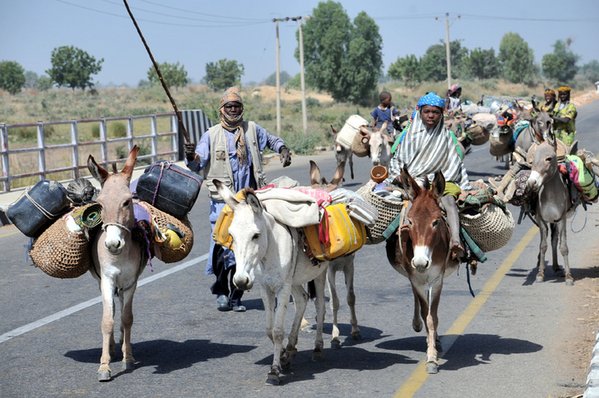 Estimated Reading Time: <1
The pan-Yoruba socio-cultural organisation, Afenifere, the Igbo socio-political organisation, the Ohanaeze Ndigbo, and the Movement for the Actualisation of the Sovereign State of Biafra have expressed support for the bill assented to by the Ekiti State Governor, Ayodele Fayose, which categorises grazing with arms in the state as terrorism.
Fayose had, while signing the 'prohibition of cattle and other Ruminants Grazing in Ekiti 2016' into law on Monday, said any herdsman, caught with any form of weapons while grazing his cattle in any part of the state, would be arrested and charged with terrorism.
Afenifere, which spoke through its Publicity Secretary, Mr. Yinka Odumakin, on Tuesday, described Fayose's action as courageous and worthy of emulation.
Odumakin pointed out that the bill would put an end to the incessant attacks by the Fulani herdsmen on farmers and their farms in the southern part of the country.
He said, "The bill will stop the menace of the herdsmen, who have been terrorising their host communities.
''Right from ages, herdsmen are not to carry arms when they are moving about with their cattle. But when herdsmen begin to carry unlicensed AK 47 (rifles), these are clearly not herdsmen; these are terrorists. I think the law should not smile at such people."
The Ohanaeze Ndigbo hailed Fayose for signing the bill into law, noting that the governor took a "brave" step.
Speaking with one of our correspondents on Tuesday, President of the Ohanaeze Youth Council, Mazi Okechukwu Isiguzoro, said the law should be replicated in all parts of the country.
He added, "Fayose has done the right thing and he should be commended and encouraged for taking this brave step.
"Cattle rearing is a private business; those involved in the venture should not become a threat to other Nigerians.
"We in the Ohanaeze Youth Council are asking the South-East governors to do same in their states.
"The law, if implemented in the South-East, would check the violent activities of herdsmen in the zone, and same applies to other parts of the country where the herdsmen are wreaking havoc on their host communities.
"Enugu State Governor, Ifeanyi Ugwuanyi, should act fast; he should emulate Fayose if he really intends to protect lives and property in his state."
MASSOB, while commending Fayose for signing the bill into law, said other governors in the southern part of the country, as well as the Middle Belt, should enact similar laws.
MASSOB spokesman, Samuel Edeson, said, "It is a very good development; we are expecting other governors in the southern part of the country, and the Middle Belt, to do same.
"Enugu State Governor, Ugwuanyi, should emulate Fayose because herdsmen attacks are becoming regular in the state.
"The people of Enugu State are under attack; they are being killed and the governor is not taking action.
"The attack happened only once in Ekiti State and Fayose responded immediately. What Fayose did is laudable; it is a very good development."