"Convention Will Hold" – PDP Rejects Justice Okon Abang's Order Stoping Scheduled PH Convention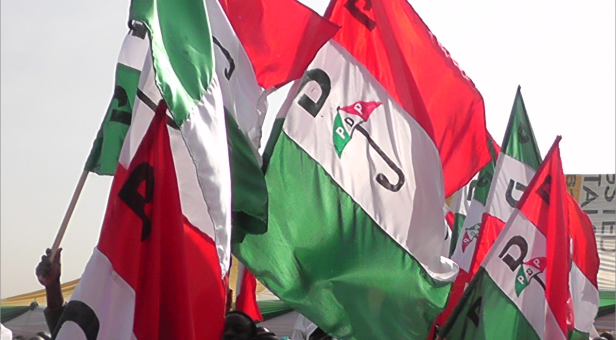 Two different judgements have been made by two different courts in cases related to the planned Peoples Democratic Party's National Convention scheduled to hold in Port Harcourt on August 17.
The latest in the rulings, a declaration issued by a Federal High Court in Abuja, Nigeria's capital, suspended the convention of the Peoples Democratic Party (PDP)
Justice Okon Abang issued the order on Monday after a Federal High Court in Port Harcourt had asked the party to go on with the national convention as planned.
He said the suspension of the convention was in the interest of justice to both factions in the party in a suit pending before him and also to curb the excesses of some parties in the suit and to serve as a disciplinary action against those treating the court with levity.
This judgement came hours after the Port Harcourt court restrained the police, the Department of State Services and the electoral body from interfering or stopping the Port Harcourt convention.
The injunction, which was gotten from the court by Senator Ben Obi, also ordered the Independent National Electoral Commission to supervise the convention.
The court on Monday restrained the Inspector General of Police, Commissioner of Police in Rivers State, Director of the Department of State Security Service, (DSS), the Director DSS Rivers State and the Independent National Electoral Commission (INEC) from interfering in the conduct of the party's convention.
The presiding judge, Justice Ibrahim Watila, in the interlocutory injunction also directed the security agencies mentioned in the suit to provide adequate security for the event and also asked INEC to be present.
Justice Abang said his action was also as a result of the interim order obtained in the Port Harcourt court.
The judge held that Senator Obi 'secretly went to Port Harcourt' to obtain the said order when he knew he was a party seeking to be joined in the legal action filed by the Senator Ali Modu-Sheriff's faction.
Sheriff's faction had filed a case with the court to stop the Port Harcourt convention days after another court upheld his leadership of the PDP.
"Any court of coordinate jurisdiction which makes it a habit to grant ex parte injunctions against decisions made by a sister court is on its own," he said.
In the case, Senator Sheriff had challenging the legality of the planned PDP convention and requested that the court should stop it on the grounds that it was being organised by a body not known to the law.
After suspending the convention, the court adjourned to the August 16 of for continuation of hearing.