CBN Governor, Godwin Emefiele Replies Nasir el-rufai Over Monetary Policy Remarks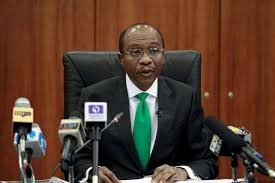 Estimated Reading Time: <1
Central Bank of Nigeria (CBN), yesterday, reiterated that its current economic policies are in the right direction to rescue the dwindling economic situation in the country.
The Governor of CBN, Mr Godwin Emefiele faulted critics of the apex bank's policies, saying they are operating the best policies needed to address the present economic crisis in Nigeria.
Recently, Governor of Kaduna Nasir El-Rufai had criticised the CBN over the sad state of Nigeria's fiscal regime, saying that the bank's 14 per cent monetary policy rate has led to unprecedented job losses in the country.
The CBN's Monetary Policy Rate (MPR) had been increased from 12 per cent to 14 per cent.
Emefiele, who stated this at Redeemed Christian Church of God (RCCG), The Everlasting Arms Parish, Garki, Teens' Career Conference, in Abuja, stressed that the bank's policies at present remain the best option to Nigeria's ailing economy.
He was represented by CBN Deputy Governor, Economic Policy, Dr Sarah Alade.
According to him, "At this moment, what we are doing is what is best for the economy. The concern even in this hall has been the slide in the naira.
"And I have told you, I did answer the question by saying that we also need to ensure that we diversify the economy, so that we can earn more dollar, we can have more export.
"And this, we are also supporting the efforts of the government, once we are able to do this; we would then be able to earn the interest rate that people want. At this particular time, to be able to get out of the situation we are in, we need to have the decisions we have taken at the right time.
"The Monetary Policy Committee considers (MPC) all these factors before we take decisions and we will do what is right for the economy. Whatever policies we need to take to ensure that the economy comes out stronger, we do it and at the right time."
CBN Boss assured Nigerian youths that the bank takes their growth and development seriously, adding that "one think that keeps me awake at night is how to create an enabling environment for our youths to grow."
He advised them to stay focus on their dreams for greatness, stressing that, hard work, focus and commitment remain the key to success.