Nigerian Army Reportedly Sacked officers For Not Helping APC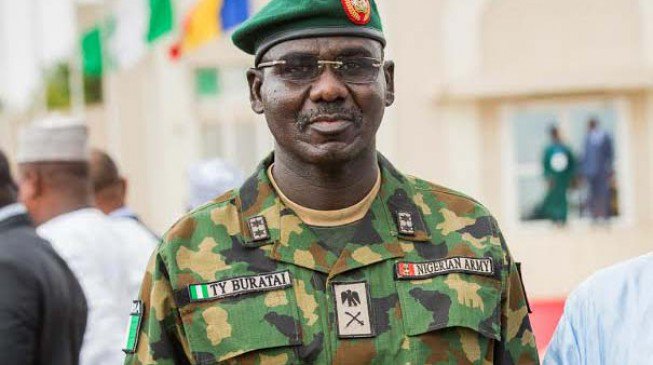 Estimated Reading Time: <1
Majority of the 38 officers compulsorily retired by the Nigerian Army two months ago were sent away without recourse to the rules of disengagement in the Nigerian military," PREMIUM TIMES can authoritatively report today.
The army had in June announced the compulsory retirement of 38 officers on different ranks on the grounds of alleged professional misconduct during the 2015 general elections, as well as involvement in the $2.1 billion arms procurement scandal.
The affected officers include Major-Generals F. O. Alli, E.J. Atewe, I. N. Ijoma, L. C. Ilo, TC Ude, Letam Wiwa, SD Aliyu, M.Y Ibrahim, LC Ilo and O. Ejemai.
Others were Brigadier-Generals D. M. Onoyeiveta, A. S. O. Mormoni Bashir, A.S.H Sa'ad, A. I. Onibasa, D. Abdusalam, L.M. Bello, KA Essien, B. A. Fiboinumama and I. M. Lawson.
Also affected were Cols. M.A. Suleiman, I. O. Ahhachi, P. E. Ekpenyong, T. T. Minimah, O. U. Nwonkwo, and F. D. Kayode, Lt-Cols C. O. Amadi, K. O. Adimogha, T. E. Arigbe, O. A. Baba Ochankpa, D. B. Dazang, O. C. Egemole, Enemchukwu, A. Mohammed, A. S. Mohammed, G. C. Nyekwu, T. O. Oladintoye, C. K. Ukoha and Major A. T. Williams.
In the June 9 letters, seen by PREMIUM TIMES, to the affected officers, their compulsory retirement was hinged on "provisions of Paragraph 09.02c (4) of the Harmonised Terms and Conditions of Service for Officers 2012 (Revised)".
The referenced section – 09.02c (4) – of the Harmonised Terms and Conditions of Service for Officers 2012 (Revised), shows the officers were laid off "on disciplinary grounds i.e. serious offence(s)".
Emphasizing "service exigencies" and that the "military must remain apolitical and professional at all times", Army spokesperson, Sani Usman, a colonel,on June 10, released a statement, disclosing what could have constituted the "serious offences" which warranted the 38 officers to be compulsorily retired.
"It should be recalled that not too long ago some officers were investigated for being partisan during the 2015 general elections," the statement said.
"Similarly, the investigation by the Presidential Committee investigating Defence Contracts revealed a lot. Some officers have already been arraigned in court by the Economic and Financial Crimes Commission (EFCC)," Colonel Usman said.
Although, some of the officers, who were shocked by their sudden retirement, had alleged ethnic cleansing, the Chief of Army Staff, Tukur Buratai, said the army embarked upon the exercise to remove those "who in one way or the other jeopardized the fight against insurgency and other issues bordering on national security."
He also said that there was no better time to send the officers away than the time they were retired.
But PREMIUM TIMES investigations revealed that the Army breached its own rule by retiring most of the officers without query or indictment by any panel, thereby raising question of arbitrariness.
However, contrary to the claim by the Army, our investigations showed that only a few of the affected officers were queried, tried and indicted.
Others had their careers abruptly cut short for reasons that smacks of high-level arbitrariness, pettiness, witch-hunting and partisanship by authorities of the Army.
While officers cleared by either arms procurement panel or election panel were retired, others who were not questioned at all were also sent away.
Our findings revealed that nine officers, holding the rank of Major General, 11 Brigadier Generals, seven Colonels and 11 Lieutenant Colonels, amounting to 38 officers in sum, were laid off.
Highly placed sources in the Army told PREMIUM TIMES that out of the Major Generals, only one – E.D. Atewe (N/7674) faced a panel and was indicted. Mr. Atewe was indicted by the presidential arms probe panel, and he is currently being prosecuted by the Economic and Financial Crimes Commission.
Although S.D. Aliyu (N/7711); M.Y. Aliyu (N/8114) GOC 7 Division; Fatai Alli, (N/7914) a former Director of Operations in the Army, also faced presidential arms panel but they were cleared. Yet they were laid off for "serious offence", our investigations revealed.
Other five Major Generals – L. Wiwa (N/7665), who is late Ken Saro-Wiwa's brother; I.N. Ijeoma (N/8304); T.C Ude (N/7866); L.C. Ilo (N/8320); O. Ejemau (N/8340) were neither queried nor indicted by any panel.
On June 9, they received letters via emails, directing them to proceed on compulsory retirement.